If you're reading this post, then you are proving that social media matters in home care. There is debate as to how important a tool social media is for home care agencies to find clients. You can read more about that in Ankota's recent post Home Care is Talking about Social Media: Point and Counterpoint.
Today's post is for those of you who have are either using social media or contemplating its use and not sure how to find the time. I use a tool that allows Ankota to publish 9 or 10 items a week on our Facebook page and on my Twitter (@AnkotaCTO) and it takes me less than 15 minutes a week to set it up. The tool is called "Roost" and you can sign up for free at www.roost.com.

Here's how it works:
Signing up for Roost takes about 5 minutes.

Go in once a week for about 15 minutes to set up a "campaign" (which is a set of postings for the week)

Roost proposes a mix of types of posts for you. For example, 2 news/blog links, 3 status updates, 1 Quote, 2 Questions, and 1 Photo (see screenshot below)

There are built in tools to help you find content (like a tool for finding famous quotes and a tool that shows you relevant blog articles, such as from New York Times Health or others, that you may wish to post). You can also add in other sources that you like (such as the Ankota blog)

Once you're done, Roost releases your posts for you throughout the week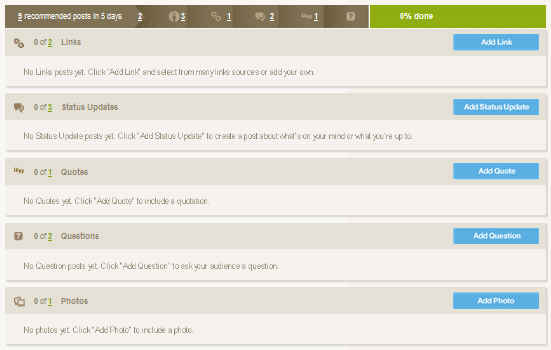 Roost is a free and easy service, so I'd encourage you to give it a try.
Ankota provides software to improve the delivery of care outside the hospital. Today Ankota services home health, private duty care, DME Delivery, RT, Physical Therapy and Home Infusion organizations, and is interested in helping to efficiently manage other forms of care. To learn more, please visit www.ankota.com or contact Ankota