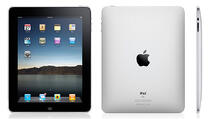 One of Ankota's fastest growing products is TherapEZ, which is used by agencies that provide Physical Therapy, Occupational Therapy, and Speech therapy to clients in their homes, in assisted living or rehabilitation facilities. Many of our TherapEZcustomers use tablets or laptops to complete electronic forms and record episodes of care, which are updated live (if connected) or synchronized when they have a connection to the internet.
As home therapy and home healthcare services grow in volume and complexity, demand for devices such as tablet PCs, iPads, and laptops will only increase. With this comes the need to manage and repair devices and keep them secure. While the prices for these devices have dropped considerably, home health and therapy agencies can take a few steps to keep them secure and minimize downtime in the event of breakage or failure.

Today's guest blogger is Ken Currie, Director of Marketing and Business Development for Barcoding, Inc. Barcoding provides mobile devices (such as tablets and laptops) and services to keep them running safe and secure. Ken offers the following 5 tips for securing these devices:
5 Tips to Securing Mobile Tablets
1. Develop Security Policies- Organizations may want to extend to tablets the same security policies, procedures, and protections that are used for company owned laptops, computers, and servers. But for field based workers that are using tablets to automate paper processes, their mobile nature brings an additional set of challenges. For instance, the opportunity for loss and theft of these assets is much greater and a good security plan would provide for remote lock down or a full data wipe to protect sensitive data.
2. Establish Layers of Physical Security – Apply user authentication protocols for tablets that at a minimum include user names and passwords.
3. Ensure Data Security –Make sure that line of business applications use encryption for data. And the following types of software can be worth their weight in gold: anti-virus software, anti-malware, content data loss prevention (DLP) software, and intrusion prevention software. Some device management software providers provide some of these features in their application.
4. Deploy and Utilize Device Management Software – Device management software allows an IT administrator to remotely enforce security policies, push out updates, and manage/control tablets while they are connected to a network. In the case of theft, it may even possible to use GPS bread crumbing to follow the trail of the stolen tablet.
5. Consider a Managed Services Provider - Consider outsourcing to a managed services provider if your organization is not equipped to effectively handle suggestions 1-4. How do you find one? One suggestion is to ask your business software application provider(s) for a recommendation of companies that they are comfortable with.
A company such as Barcoding, Inc. can provide the devices you need, manage updates throughout the life of the device, inventory spares for you, and allow you to leverage their "repair depot." This prevents costly downtime and keep your staff consistently productive. These services are more affordable for even smaller organizations by turning to 3rd parties like Barcoding, Inc. that provide them. Barcoding, Inc. works closely with many of Ankota's customers and "packages" common services to make them very affordable, even for smaller agencies.
If you are considering new software for your home health or contract therapy agency, HME, Private Duty, MCO or ACO, ask Ankota for help in addressing some of these concerns.
Ankota provides software to improve the delivery of care outside the hospital. Today Ankota services home health, private duty care, DME Delivery, RT, Physical Therapy and Home Infusion organizations, and is interested in helping to efficiently manage other forms of care. To learn more, please visit www.ankota.com or contact Ankota