Sobering statistics show that falls resulting in injury can be the beginning of the end for seniors--not only of independence, but also their lives. Among the dangerous consequences of falling, hip fractures sustained in a fall are tragically common among seniors.

Shockingly, injuries resulting from falls kill tens of thousands of seniors each year. Falls affect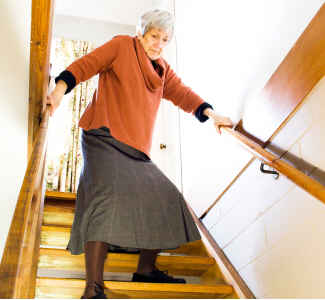 nearly 1 in 3 seniors annually--about 300,000 seniors will suffer a quality-of-life threatening incident this year.

It follows that preventing falls from happening is key in extending the lives of seniors.

Importantly, fall prevention also preserves quality of life. Home care is a major factor in keeping seniors attended, functional, significantly safer, and able to live the independent lives they deserve.

Home Care can extend their clients' lives by preventing falls.

Previous coverage on the Ankota blog explores this topic and its relation to your agency. Find it here.

The blog post shares a simple yet crucial piece of advice: when shopping for Home Care, look for an agency's record in fall prevention as a true measure of quality care.

A new article in AARP magazine makes the case compellingly clear. The article lays out the numbers, which are not at all encouraging. Yet it also provides a comprehensive list of measures to take to significantly reduce this all too common threat to the quality of life for seniors.

"The Deadliest Break" gives an example of a 91-year-old woman who was able not only to survive, but also to thrive after her fall resulting in hip fracture.

Unfortunately, it goes on to explain, she is in a select minority of seniors who are able to resume activities of daily living unassisted after such an incident.

Does aging itself necessitate a resigned attitude toward inevitable decline of one's own abilities and capacities? The article explores an insidious bias, while giving clear directives for restoration and renewal. It shows how to overcome a prevalent notion--that recovery from hip fracture or other fall-related injuries will not result in fully restored vigor.

Why are falls resulting in hip fractures particularly deadly to seniors? The article looks at co-morbidity factors affecting this population, plus takes on other damaging factors, including "the vanishing" of continuing care at a crucial juncture--care which could restore an injury sufferer to previous levels of functionality in daily life.

The article is followed by a list of definite measures--some perhaps surprising--to bolster a senior's chance of preventing an incident.

Naturally, prevention is paramount. Yet early treatment, thorough rehabilitation, and continuing care at the right time are the simple yet uncommon measures to improve the situation for seniors and those who care for them.

Find the full article here: "The Deadliest Break."
What is your agency doing to prevent falls? Please share your best practices in the comments. If you have a great story to share, we want to hear it. Be sure to contact us and we'll feature the best in our blog.
Ankota provides software to improve the delivery of care outside the hospital. Today Ankota services home health, private duty care, DME Delivery, RT, Physical Therapy and Home Infusion organizations, and is interested in helping to efficiently manage other forms of care. To learn more, please visit www.ankota.com or contact Ankota