The home care industry is blessed with some great veteran consultants who share their expertise with the industry. We're pleased to have met many of them at conferences

, to learn from them and to share their insights on our blog. Today's article is from Stephen Tweed who leads Leading Home Care. We've featured Stephen on the Ankota blog numerous times in the past, including this piece sharing Stephen's tips for selling home health to physicians, and this more recent and somewhat controversial piece where Stephen shares the insight that social media doesn't seem to work for home health - in the piece his points are contrasted with a piece by Merrily Orsini about how to make social media work in home care.
Seeing The Bigger Picture
by Stephen Tweed
In January of 1997, I was sitting in the office of Chip Liversidge, the CEO of Community Health Services in Portland, Maine. We had just finished a board of directors planning retreat and we were reminiscing about Chip's 30 years as a CEO in home health care. Chip made a very interesting comment.
He said, "One of my big regrets is that we, as an industry, have not invested enough in developing the next generation of home care leaders." This one statement led us to more conversation and an industry survey of home health care CEOs. That one conversation ultimately led to starting this company, Leading Home Care.
Chip and I surveyed over 200 home health care CEOs to identify the top characteristics of highly effective home care leaders. The results were a vast set of ideas, information, data, and opinions about what makes great leaders in home health care in Amercia.
Clearly, the number one factor identified by those CEOs they called, "Seeing the Bigger Picture." As we have continued to study that concept over the past 14 years, we are much clearer about what that means.
Home Health Care Leaders who "See the Bigger Picture" are leaders who have: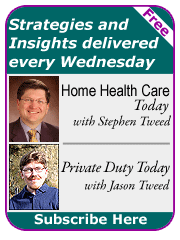 A clear model of strategic thinking.
The ability to objectively assess the current reality of their home care business.
An understanding of the forces and trends shaping the future of our industry.
A clear picture of the business of home care.
A clearly defined source of competitive advantage in the marketplace.
A keen awareness of the factors that drive the economic engine of home health care.
Tools and Techniques for measuring results.
That research and the revelation that the key characteristic of highly effective home care leaders is "Seeing the Bigger Picture" has driven much of what we have done over the past decade at Leading Home Care. We created the Academy for Home Care Leadership™, and a series of keynote speeches and learning seminars based on those results. This research, combined with my first book, Strategic Focus: A Gameplan for Developing Competitive Advantage, helped me to refine our Model of Strategic Thinking.
To learn more about Stephen's Model of strategic thinking and more great content, we'd encourage you go to Stephen's website at http://leadinghomecare.com/
Ankota provides software to improve the delivery of care outside the hospital. Today Ankota services home health, private duty care, DME Delivery, RT, Physical Therapy and Home Infusion organizations, and is interested in helping to efficiently manage other forms of care. To learn more, please visit www.ankota.com or contact Ankota