Our friend Bernie Smith sent me a great article from yesterday's Washington post about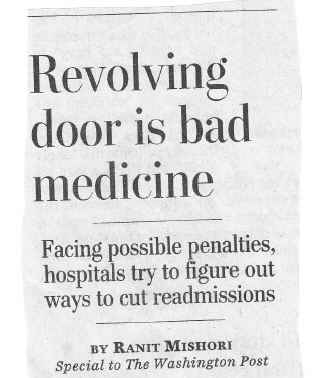 Readmissions. It's by Ranit Mishori and is entitled "Revolving Door is Bad Medicine". As you know, we always try to send you the link to the full article, but this time I can't find it - so sorry about that! Some highlights of the article are as follows:
Reducing readmissions can save the country $17 Billion dollars a year
Medicare readmissions rates are 20% in the first 30 days and 34% within 90 days based on a 2009 study in the New England Journal of Medicine
There's a new incentive (in the form of a penalty) for hospitals to reduce readmissions. Hospitals on the naughty list will lose 1 percent of their Medicare reimbursement in 2012 and this grows to 3%
Never has home care been more important in the health system. This is a call-to-action for your agency to find ways to help hospitals stay on the nice list.
Two other cool things about the article:
It talks about a computerized virtual discharge nurse (named Louise) who helps prepare patients to leave the hospital. I've been hearing about Louise in several conferences in the past months. The most remarkable thing being that she's getting very high patient satisfaction marks, and in particular patients like that she's willing to spend as much time with them as they need
It also gives a checklist called "What Patients Can Do" which we include below (and you know that we love checklists - see Ankota's 2010 Book of the Year "The Checklist Manifesto")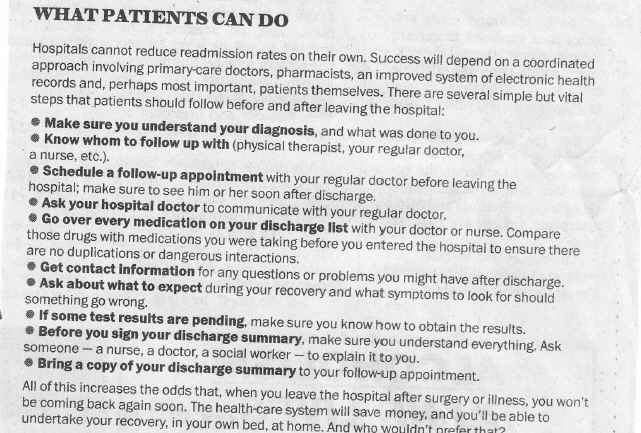 As your agency considers your key strategic initiatives for 2012, put readmission avoidance at the top of your list!
Ankota provides software to improve the delivery of care outside the hospital. Today Ankota services home health, private duty care, DME Delivery, RT, Physical Therapy and Home Infusion organizations, and is interested in helping to efficiently manage other forms of care. To learn more, please visit www.ankota.com or contact Ankota