President Obama temporarily appointed Dr. Donald M. Berwick to lead the Centers for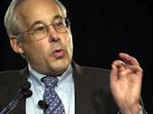 Medicare and Medicaid Services (CMS). When Dr. Berwick stepped down he had a few things to say:
There's an extremely high level of waste in federal health spending, ranging between 20%-30%, said Donald Berwick, the freshly departed head of the CMS. He listed five reasons for the waste: overtreatment of patients, the failure to coordinate care, the administrative complexity of the health care system, burdensome rules and fraud. The Office of Inspector General (OIG) has urged CMS to improve its oversight of hospitals and other health care providers, as well as to increase enforcement of rules and cut overpayments.

For our industry, the key questions are 1) What are some of the remedies? and 2) How can home care help? Here are my thoughts:
Overtreatment of patients: Overtreatments occur because 1) the doctor is afraid of missing something so they order too many tests, 2) the tests were done already but results are not readily available so they test again, or 3) the health community is taking advantage of the pay-per-service plan that focuses on what is paid for tests and not on what tests are required. The answer here requires payment reform that makes it more advantageous for the health system to spend less.
Failure to Coordinate Care: Some of the best care professionals I respect have said "we try to coordinate care because it's the right thing to do, but it's hard because we don't get paid for it". The answer, also in the form of payment reform, will be to pay less if you don't do it. (Editor's note - this is why Ankota's main focus is to make it easier to coordinate care, and to do it with greater efficiency)
Administrative Complexity and Burdensome Rules: Today's health care software is mostly designed for billing, whereas it should be designed around the care delivery process (and billing should happen automatically in the background). This is a big shift...
Fraud: Unfortunately there has been a history of fraudulent claims in home care and this has gotten the attention of lawmakers more than the potential benefits that home care can bring. As an industry, home care needs to blow the whistle on fraud and make it go away. In your own agencies, make sure to be "Squeaky clean" and invest in technologies like telephony and electronic note systems that create an unquestioned audit trail. Then once the "bad apples" are thrown out, the focus will shift.
Many of the people in home care have been around for a while and now is the time to take the long term perspective. Ultimately, home care can and will take center stage in fixing America's health care issues, and legislation like the "Independence at Home Act" will help. In the mean time, provide great care, and invest to make care coordination central and to stamp-out fraud. Good times are ahead!
Ankota provides software to improve the delivery of care outside the hospital. Today Ankota services home health, private duty care, DME Delivery, RT, Physical Therapy and Home Infusion organizations, and is interested in helping to efficiently manage other forms of care. To learn more, please visit www.ankota.com or contact Ankota