Through their outreach to the home care community, Ankota has had a chance to learn a

lot from Stephen Tweed's company, Leading Home Care. We've shared content from Stephen and his team, including his son Jason Tweed, on numerous occasions. Here are some prior posts:
For 2012, Leading Home Care has announced the creation of a video series to help private home care agencies grow and thrive. As an apetizer, we've included the first video in the series, which among other things, cites three reasons why they expect 2012 to be a great year for Private Care, as follows:
Improving Economy

Turmoil in Home Health

Growing Consumer Awareness
To benefit from the full series, you should go to the website for leading home care and subscribe to one of their newsletters. For Private Care, the best is likely to be Private Duty Today.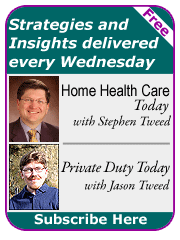 Ankota provides software to improve the delivery of care outside the hospital. Today Ankota services home health, private duty care, DME Delivery, RT, Physical Therapy and Home Infusion organizations, and is interested in helping to efficiently manage other forms of care. To learn more, please visit www.ankota.com or contact Ankota