On a few occaisions I've had the chance to meet Tom Boyd and Tom Nicholas, whose company Boyd & Nicholas brands themselves as the home care cost report people. Their office sends a weekly email newsletter with information from across the spectrum of healthcare and I learn a lot from it. In their most recent email, they shared a very interesting comparison between the US healthcare Industry and the Newspaper Industry, which is shared below.
HEALTHCARE DISRUPTION: PROVIDERS ARE MAKING NEWSPAPER INDUSTRY MISTAKES (excerpt)
Since the latter half of the 90's, the handwriting has been on the wall for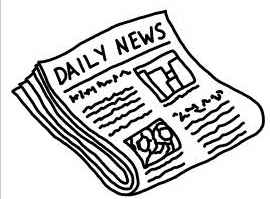 newspaper companies that media's future was digital. Heck, the newspapers' own business sections reported on this trend. Despite this, the majority of the industry focused on traditional strategies such as taking on debt to acquire other newspapers or investing in new printing presses, leading to disastrous consequences.
Now consider healthcare in the U.S.: There's a clear understanding that the industry must shift its focus towards outcomes from "do more, bill more" orientation. If ever there was an industry that should understand that it's more effective to address underlying conditions than treating the symptoms, it should be healthcare. Prevention-focused countries such as Denmark have dramatically lowered the need for hospitals. Once at 155 hospitals, they are at less than a third of that today.
Whether they don't know these facts or are ignoring them, the fact is there are incredibly large capital investment projects on the docket for many health systems. Since 62% of hospitals are mission-based, non-profit organizations, it's astonishing that they are more focused on capital projects than addressing the overall health of their communities. No one has made the case, for instance, that chronic conditions that consume 75% of the $2.6 trillion tab in the U.S. is best addressed by building more buildings.
Ankota provides software to improve the delivery of care outside the hospital. Today Ankota services home health, private duty care, DME Delivery, RT, Physical Therapy and Home Infusion organizations, and is interested in helping to efficiently manage other forms of care. To learn more, please visit www.ankota.com or contact Ankota