The Home Care Software Geek posts in this blog don't talk about Home Care Nursing Software, Private Duty Telephony, DME Delivery Software, Home Infusion Care Management or the other topics we focus on regularly at Ankota. Instead, these posts are intended to keep our readers up to date with technology trends that might be useful to your agencies, such as social media technologies, mobile devices, and what's happening from the big-boys like Microsoft, Google and Apple.
In project kick-off meetings, I've often done an ice breaker exercise that encourages participants to meet one another. I give them a sheet of paper with statements like "has I car I'd like to drive" and "has been to Disneyworld more than 10 times." The participants have to find others on the project team who fit the descriptions on the sheet. One of the questions is "has spent more than $1,000" on the Internet." It used to be that this was a hard one for people to fill out, because there used to be people, even those working on technology projects, who either feared commerce on the web or in some cases still didn't use the web. Over time, that has changed and most people use the internet to buy airplane tickets, Christmas presents and many other things. But has this changed for seniors too?
Here's the answer, according to the April 13, 2012 Pew Research Report entitled "Digital Differences" 41% of seniors now use the internet. This is up from 12% in the year 2000. Here are the stats: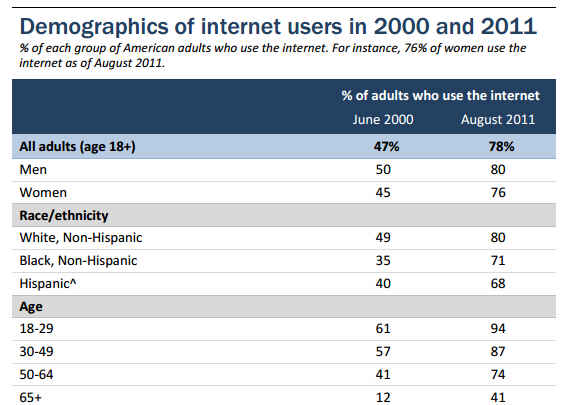 What does this mean for Home Care?
My view is that this while 41% is a significant increase, that we can't really count on communicating directly with our home care clients via the web, especially since it's not the 65 year olds, but the 80s and up who are more likely to be receiving care from our agencies. The good news, however, is that the adult children of the people we care for are likely to be on line and we can likely use the web, mobile and email to correspond with the vast majority of them. It also means that the next generation (e.g., when the baby boomers get old enough to need our care) will be web savvy.
Ankota provides software to improve the delivery of care outside the hospital. Today Ankota services home health, private duty care, DME Delivery, RT, Physical Therapy and Home Infusion organizations, and is interested in helping to efficiently manage other forms of care. To learn more, please visit www.ankota.com or contact Ankota.