The Home Care Software Geek posts in this blog don't talk about Home Care Nursing Software, Private Duty Telephony, DME Delivery Software, Home Infusion Care Management or the other topics we focus on regularly at Ankota. Instead, these posts are intended to keep our readers up to date with technology trends that might be useful to your agencies, such as social media technologies, mobile devices, and what's happening from the big-boys like Microsoft, Google and Apple.
As of May 20th 2012, Google Chrome has overtaken Internet Explorer to become the

number 1 browser worldwide, surpassing long time competitor Internet Explorer. I for one have jumped on that bandwagon and generally use Chrome (although we also test Ankota on Internet Explorer, Firefox and Safari). Let me explain why I like Chrome:
It's faster than the others
Sometimes I want to go to a site (like Ankota.com) and other times I want to search for somthing. With chrome, I can do either one just by typing in the address bar
The bells and whistles, like saving passwords and translating from foreign languages are really easy to use
When I type in Chrome (like now writing this blog post or composing email) it spell checks for me
It works on my PC and on the Mac
I spend a lot of time in a browser and this one makes my life easier. I find that most home care people either use Internet Explorer (because it comes on their PC) or Safari (because Macintosh people generally believe that Apple does everything best). I'm fond of both Microsoft and Apple, but I use Chrome for speed and convenience (I like Google too - they make Chrome).
The number 3 browser is FireFox and programmers (including my programmers at Ankota) seem to prefer it. I asked my lead developer why and he explained that there are a lot of developer tools that he can plug in (for example to analyze the software while testing).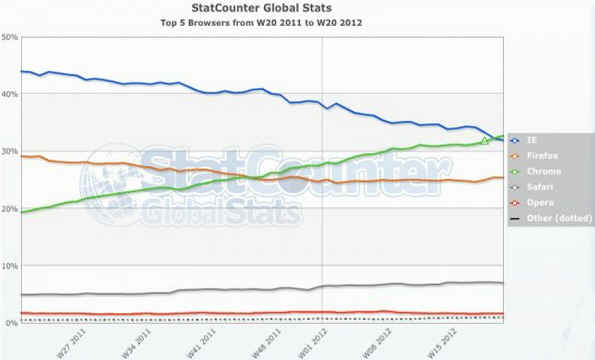 So what does this mean for you and your home care agency? Two things:
Since Google Chrome has become the leader, it might be worth a try (click on the chrome icon above to go to the download page), and
It used to be that software vendors wrote their software only for Internet Explorer, and that made sense because it used to have almost all of the market (in 2004 it had 90% of the market and stayed over 70% through 2009). But for now, make sure that you get software that runs in other browsers...
Ankota provides software to improve the delivery of care outside the hospital. Today Ankota services home health, private duty care, DME Delivery, RT, Physical Therapy and Home Infusion organizations, and is interested in helping to efficiently manage other forms of care. To learn more, please visit www.ankota.com or contact Ankota.