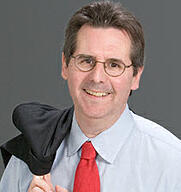 Healthcare is indeed a matter of life and death, and sometimes it's even more important than that. It does not matter which part of the health care continuum you are in: Care Transitions, Accountable Care Organization, a Respected Hospital, Primary Care, or any of the post acute care segments that we know so well, such as home healthcare, therapies, infusion nursing, or HME / DME. No matter where you are in the "ecosystem" of providers, new healthcare delivery models demand that services are better coordinated, and your patients and colleagues look to you for calm in the storm.
In his SmartBrief blog, Baldoni explains, "Composure is a desired leadership attribute. For some leaders, composure is a birthright. They take to coolness like a duck to water. It comes as second nature. For others, it must be cultivated — and not easily."
Take a look at this video from well known executive coach John Baldoni, in which he gives leaders some practical advice for maintining cool perspective in the most stressful of situations.