New Care Coordination Payments for Managing Care After Discharge
CMS will pay community physicians and other care coordinators for the care required to help a patient transition back to the community following discharge from a hospital. This is consistent with CMS objectives of aligning incentives to drive the right kind of care that reduces avoidable readmissions, improves quality of care and lowers healthcare delivery costs.

As described in the Remington Report, "Under the proposed rule, CMS would make a separate payment to a patient's community physician to coordinate care during the first 30 days after a patient's hospital stay. Research shows that patients who receive timely physician follow-up care after being discharged are significantly less likely to be readmitted.

 The proposed rule would increase payments for family physicians by 7 percent and other practitioners providing primary care services by 3 to 5 percent under the Medicare Physician Fee Schedule for 2013. The proposed rule, which will appear in the July 30 Federal Register, also seeks public comment on how Medicare can better recognize the services community physicians provide in office visits and in coordinating care outside of the office."
Why is CMS Paying for Care Coordination?
That's easy: by creating this role and providing incentives for those who provide Care Coordination following discharge, hospital readmissions will be greatly reduced. And more care will be provided proactively to prevent episodes that cost more later if not addressed. And that lowers costs and improves patients lives. It's really that simple.


From a recent Community Catalyst paper titled Special Delivery: How Coordinated Care Programs Can Improve Quality and Save Costs, published jointly with U Mass Medical School,
"The delivery of health care in the United States is fragmented and uncoordinated. This adds
unnecessary risks and costs to people's health care experience.
• Lack of coordination can be unsafe, even fatal, when abnormal test results are not
communicated correctly, prescriptions from multiple doctors conflict with each other
or primary care physicians do not receive hospital discharge plans for their patients.
• Uncoordinated care is also costly because of duplicated service
Healthcare professionals are well aware now that 20% of patients are readmitted within 30 days of discharge from the hospital, and that number increases to 30% within 60 days. It is widely accepted that this is both a cost and quality problem. In fact, Medicare figures alone peg the cost of readmissions that could have been avoided at more than $25 BILLION annually. Further, chronic diseases account for $3 out of every $4 spent on healthcare in the US. Many chronic conditions are manageable, but when left unmanaged--which is common in the fee for service model--they result in needless ER visits and hospital stays.
So How Is This Going to Work?
It may help to understand where Ankota's focus is. Ankota's technology is sharply focused on managing Care Transitions, a strategy that is shown to improve outcomes, reduce hospital admissions, and lower the overall cost of care. Ankota's customers are doing this today and are well positioned to take advantage of new opportunities such as these Care Coordination payments that are available.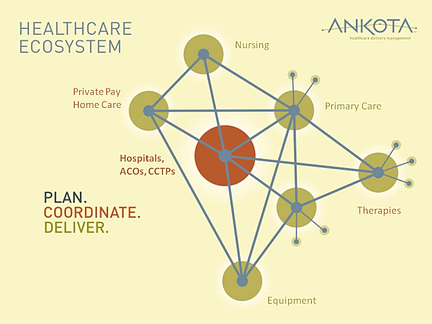 Ankota's customers make up much of the healthcare ecosystem and are those that Plan, Coordinate, and Deliver services to patients. They are a diverse crowd, including
1) Hospitals, ACOs, CCTPs: using Ankota technology to Coordinate Care and manage Care Transitions under models like Patient Centered Medical Home and Community Based Care Transitions programs (CCTP), and
2) Post-acute Care Providers: delivering services outside of hospitals and primary care settings. These services are growing rapidly and are provided by post-acute providers that include home health, HME or DME providers, Infusion nursing, Physical Therapy (PT/OT/ST), Geriatric Care Managers, Non-medical Home Care, Behavioral health specialists, and more.
These are the organizations that actually provide the services for patients after discharge from the hospital. In our terms, this is the Healthcare Ecosystem. Ankota helps organizes providers into a single, integrated service model in order to Plan, Coordinate, and Deliver needed services.
For more information about Ankota's technology for managing Care Transitions, please click on the really cool orange button immediately below