Social media shows tremendous potential to help better manage Care Transitions and chronic disease, while improving patients lives and reducing hospitalizations. The opportunity here for creativity and innovation that helps patients is unlimited.
With the rise of Accountable Care and focus on managing Care Transitions to reduce hospitalizations, more care will be planned and coordinated in settings outside of hospitals. That is no secret. Settings will include homes, assisted living facilities (ALFs), skilled nursing, offices of primary care physicians, and more. As the challenges of geography of patients and care givers are met with increasing volume and complexity of services provided, technology that reduces physical barriers and speeds "time to information" will be incredibly valuable. Social media has already proven to knock down these barriers in other industries, and health care is well on its way to similar dramatic change.
In a related paper titled "The Evolving Business Case for Social Media in Healthcare," Chris Hoffman of Triple-Tree writes, "Social media is radically changing the nature of business relationships in every economy and industry - and healthcare is no exception. 'Like' it or not, social media is forcing health plans and healthcare providers to adapt and evolve, changing how they communicate with and engage consumers."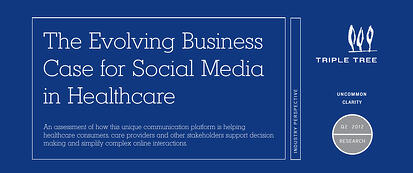 Triple Tree has detailed an assessment of how this unique communication platform is helping healthcare consumers, care providers and other stakeholders support decision making and simplify complex online interactions. Click on the image above to download the report directly from Triple-Tree, or contact Chris Hoffman directly.
To learn how Ankota is helping to integrate social media into care coordination models, click on the cool blue banner below and ask us about it.