Veteran employers will tell you that no matter what industry you work in, pay is a strong motivator. It is the reason most people work in the first place, but is it the only rationale behind building a career? No, as critical as fair wage is in the world of home care, there are other considerations, as well. Jeff Haden explains some of the responsibilities employers have to their workforce in this piece for Inc. titled "8 Things Your Employees Need Most."
Mission
Everyone needs a reason. When it comes to home care, the mission is in the service. It is an industry like no other, distinctive in its requirements. Remind them they are a piece of a larger purpose.
All industries benefit from adding a mission statement to define the reason for the job. Working in home care means others rely on the service, so the mission is a unique one. Part of the development process is letting the employees choose what the mission means to them. After all, it is about motivation, so it is their thought process that matters. You might take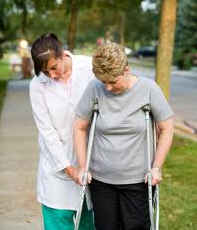 suggestions and let them vote on one statement, for example. After selecting a mission, use it as a mantra.
Expectations
Give them clear guidance and the tools to succeed in the job. Training is a critical part of expectation. Home care has standards and regulations meant to protect both the employee and client. Education for employees should be vigorous. With proper training, home care employees go into the workplace understanding exactly what is required of them. They will have a toolbox of skills that helps them meet those goals. When you set criterion and provide concise training, everyone wins. Use continuing education to improve the quality and adjust to changes.
Future
Job security and the possibility of moving up is a promise you can give employees. Reward good service through internal promotions and pay increases to bolster morale. When the time comes to select a new field supervisor or another management position, give the employees the first bite at the apple.
Keep work reviews productive. You can find something good to say about each employee. Take the opportunity to point out what they do right in the job. This is the time to make suggestions on ways to improve, as well. Balancing the evaluation with positive reinforcement will promote a sense of job security. When they see you appreciate good skills and service, they will work harder to earn your favor.
Home care is about giving. Your employees give to their clients every day. You need to give them appreciation for that effort. Respecting them as part of a team will grow your business and lead to a long-lasting partnership. Find out more about giving back in business by reading the full article here. We look forward to hearing your comments.
Ankota provides software to improve the delivery of care outside the hospital. Today Ankota services home health, private duty care, DME Delivery, RT, Physical Therapy and Home Infusion organizations, and is interested in helping to efficiently manage other forms of care. To learn more, please visit www.ankota.com or contact Ankota.