How changes in Washington University's Medicare coordinated care demonstration pilot ultimately achieved savings.
Dr. Young is Ankota's Chief Medical Officer, and serves jointly as Assistant Professor of Medicine at the Welch Center for Prevention, Epidemiology, and Clinical Research, and Core Faculty of Johns Hopkins Bloomberg School of Public Health. In these roles, Dr. Young is involved in population health programs and community based initiatives that are aimed at decreasing readmissions and lowering the overall cost of care. Managing Care Transitions has emerged as a critical element in reducing avoidable readmissions and lowering overall costs, and health care providers are looking for information to guide them in the creation of these programs.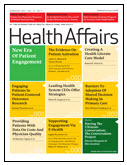 Last week, we reviewed the lessons learned from Medicare's Coordinated Care Demonstration Programs. Those programs that were most effective in controlling costs emphasized face-to-face interactions between the patient and care coordinator and between the care coordinator and the physician, focused on medication management, included behavior change interventions, and facilitated communication among all the providers.
This week, we will focus on one of the 15 programs, Washington University's pilot care management program, as reviewed by Peikes and colleagues in a Health Affairs article published in 2012. The importance of effective program design could not be any more clear in this example. The opportunity for post acute providers like home health, therapy, and DME companies is tremendous in these rapidly emerging models.
Key lessons from the Washington University program include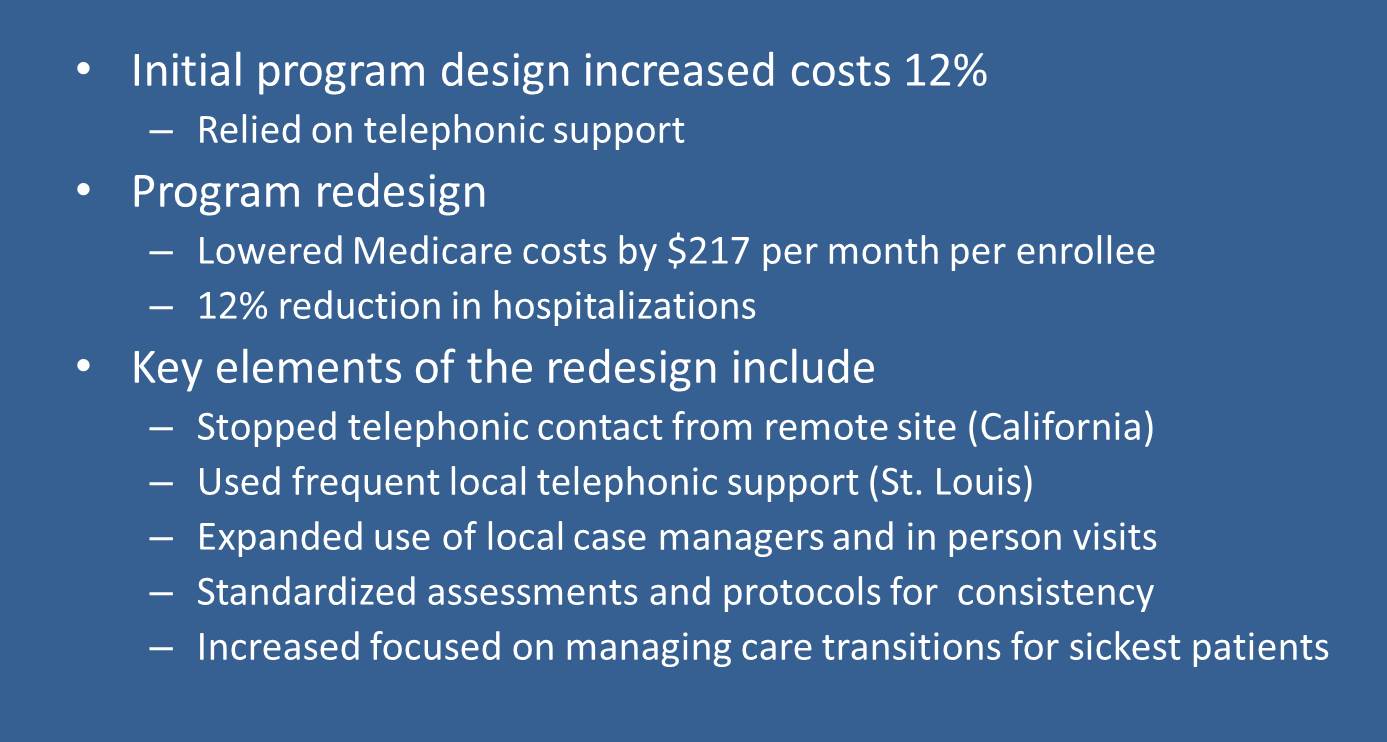 The health care expenditures in the Washington University program actually increased by 12% during the program's first 4 years.1 This result is not unlike those experienced by many care management programs underlying the point that it's hard to save money by spending money. it requires efficient program design to accomplish the desired savings.
Fortunately for Washington University, and for us, the story did not end at 4 years. When Washington University's program was extended in 2006, their telephonic care management vendor stopped participating to focus on other programs. In response, Washington University expanded and modified the component of their program employing local case managers. In addition, they added ancillary staff including a licensed clinical social worker and care manager assistants. The care coordinators focused on the sickest patients, strengthened their transitional care and medication reconciliation processes, and supplemented frequent phone contacts with occasional in-person visits. They also redesigned their care plans to more closely focus on key conditions and to more clearly guide clinical interventions. Finally, they standardized the assessment process to eliminate assessment gaps and increased supervision to ensure periodic patient contact per established protocols.
The results were remarkable given the program's previous increase in costs. The redesign resulted in a 12% reduction in hospitalizations and a decrease in monthly Medicare expenditures of $217 per member. This success emphasizes the importance of several characteristics to effective care management programs. First, all health care is local and depends on building trusting relationships with patients. Second, care transitions and a focus on sick patients provide the opportunity to lower costs. Third, standardization, clearly defined goals, and close operational supervision are essential for an effective and efficient care management process. Finally, medication reconciliation is an essential element of effective care management programs.
The program's abstract provides a good summary, "The results underscore findings from the overall Medicare Coordinated Care Demonstration that suggest that programs with more in-person contacts were more likely than others to build trusting relationships with patients and providers, improve patient adherence to care plans, and address additional needs and barriers that entirely telephonic contacts had been unable to identify. The results also indicate that programs can be more effective by focusing on the highest-risk patients, for whom the largest savings resulted."
This presents numerous opportunities for post acute providers, which are playing increasing roles in such programs. Hospitals and ACOs do not have sufficient staff or expertise to manage these outbound and highly mobile care delivery models, nor do they have the systems to manage them. Many are already expanding case management functions to lead care for patients following discharge, but will increasingly need to leverage existing channels such as home health, physical therapy and DME providers to be effective. New software systems are required to coordinate roles and dependencies, manage complex schedules and track services while assuring that protocols are followed consistently. Ankota's Healthcare Delivery Management platform manages these models effectively today and assures that programs deliver on the promise of better care at lower overal costs, and can scale approppriately. Contact Ankota using any of the blue buttons to learn more.
1. Peikes D, Peterson G, Brown RS, Graff S, Lynch JP. How changes in Washington University's Medicare coordinated care demonstration pilot ultimately achieved savings. Health Aff (Millwood). Jun 2012;31(6):1216-1226.