Call this post "Management Lessons for Acccountable Care." There is a definite lack of experienced leadership in Accountable Care models, in models that address avoidable readmissions, and that are focused on improving Care Coordination and delivery. Since this is so, does it really make sense to just re-assign existing managers to these new models, where they really are not experienced?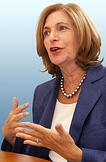 In management, we sometimes call these "re-treads." Like when you put new treads on old tires. Sometimes there are great reasons to do this, but sometimes there are shifts in markets that open opportunities for new talent to emerge.
Take a look at this discussion in the New York Times with Ilene Gordon, CEO of Ingredion, encouraging employers to promote people even before they're really ready for the job. This might provoke some thinking among post acute providers and hospitals alike, whether you are engaged in an ACO model today or not.
While not written specifically for health care, this drives home the point that when innovation is needed, hire and promote innovative people who get things done. We're in a fascinating time in health care, and many of Ankota's customers have shared concerns that they may not have the right staff to lead and grow their businesses the way they need to.
The CEO of a major hospital system in the midwest said, "I know we don't have the right leadership team to tackle this, but I also don't think it exists out there, so what's my choice?"
This is not just a hospital or ACO problem. Another Ankota customer, the owner of a Physical Therapy agency with 70 therapists in Florida recently said to me, "We have therapists running this business and they know nothing about business. I need someone who can market and run the business, including operations and finance." She went on to explain that she believes that therapy providers have the greatest opportunity ever right now, and she believes she will have perhaps 2 years to establish her business as the preferred therapy provider for ACOs in Florida. And that's why we're working with her, by the way. Click the blue button below to learn more about how Ankota helps therapy agencies operate efficiently and provide huge value for ACOs.
Ilene Gordon advocates developing young and innovative talent, even if inexperienced.
One of my favorite discussions in this piece is her response about identifying talent:
Q. How do you know if somebody's able to stretch into a big new job?
Gordon: "...it's about tenacity. It's never giving up." She continues, "I look for young people who have a lot of energy, and who treat other people well, because we're not looking for bullies. Some people push their way through things and they're not collaborative. I look for people who don't give up, who are very focused and organized but are also able to collaborate with other people, because in today's organizations, you actually may not have anybody directly reporting to you but may have a team of 10 people from other parts of the organization. They're your virtual team."
Read the New York Times interview with Gordon in its entirety here