Compliance is a confusing word in the health care world, but it shouldn't be. Here is how Ankota views this important issue and how we're helping others address it reliably.
Technology should help with compliance issues today and grow with you as requirements evolve.
Simply put, compliance refers to your ability as a health care provider to do what it is that you say you are going to do. In other words, have a plan, follow it, and be able to demonstrate that you followed it. That's it. Simple, right?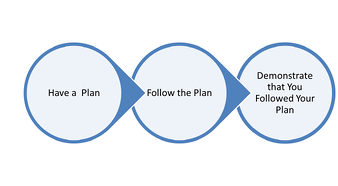 People usually think about goverment regulations when they think of compliance, which is a type of Regulatory Compliance. That is, some authority--usually some government agency--has set rules that must be followed by industry participants. There is also Policy Compliance, which is typically a set of rules or operating procedures that your organization implements as a matter of its own policy. A third source of requirements has become more prevalent now than ever before and is just as important. These are the newer, collaborative models that set additional rules and procedures for those participating in the collaboration. That is, individual providers must follow certain policies/procedures that are set by the Accountable Care Organization, the Care Transitions Initiative or some other organization in order to be a participant in the model.
Your technology should be an ally in any of these situations and help you to instantly show evidence of the work you have done, the data you collected, and the procedures you followed.
Ankota Compliance Statement
In this era of increasing accountability and need to assure high levels of productivity and supervision, Ankota's technology helps providers of all types to better Plan, Coordinate & Deliver care.
This focus is founded on principles of operating efficiency, coordination, and compliance that have been well developed in other industries and are long overdue in health care. Ankota has married these principles with extensive healthcare and software experience, developing a software platform that supports clinical best practices and innovative delivery models while ever mindful of security and patient privacy. This approach to managing roles and responsibilities, plans of care, and tracking work against stated objectives as it is performed, provides full transparency of both performance and outcomes. It also allows providers to provide better, more consistent care less expensively.
Technology has long been leveraged in other industries to assure consistent and highly efficient operations. Tasks are executed according to plan and in a timely manner. Work performed follows proven best practices that assure cost advantages and predictable, improved results. Technology provides an effective "command and control" infrastructure for highly collaborative models in other industries, and is now available in Ankota's platform that is designed to support today's healthcare delivery models. These approaches revolutionized industries like aerospace and automotive manufacturing and proved that operating costs can be reduced dramatically in the process. Operating costs were commonly reduced 20% to more than 30% throughout the supply chains of these organizations while simultaneously improving quality and reliability. Many of these examples are highly analogous to today's Accountable Care and Care Transitions models, among others.
Ankota's technology utilizes a similar approach that assures consistent care delivery and oversight and enables high levels of care coordination among providers. The result is a high performing healthcare ecosystem—supporting collaborations of providers—that can track performance and measure results, while operating efficiently and with full transparency. Built only for healthcare, it is an especially flexible and configurable platform that supports virtually any process or any type of care, and always puts the patient first.