We've done several very popular articles about bundled payments. If you'd like to get caught up, please read this article entitled Bundles of Joy: How Bundled Payments will Effect Home Care. The difference between those articles and today's offering are that the prior articles were written in future tense. This one is talking about NOW.
Bundled

Payments for Join Replacements went into effect 4/1/16
The Wall Street Journal published an article on April 1st entitled Hospitals Brace for new Medicare Payment Rules. The article mostly focuses on payment reform at a high level with the joint replacement bundle as an example. Note that the joint replacement bundle is now in effect for 800 US hospitals. This picture (below) from the article is a great representation of what's going on.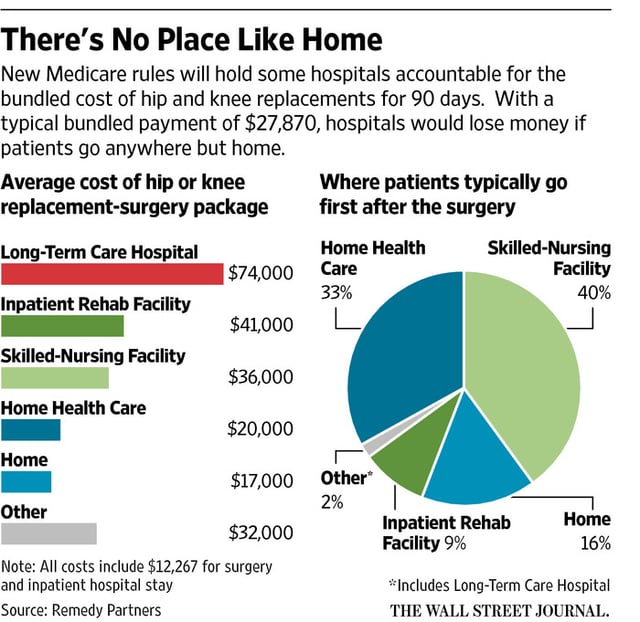 How Do I interpret This?
Here's how to understand it. Until very recently, hospitals billed for knee and hip replacements and then discharged patients mostly to skilled nursing facilities (SNFs) and home healthcare agencies (HHAs). The SNF or HHA would then bill Medicare separately for their services. If there was a readmission, the hospital would bill Medicare for the readmission (but might pay a penalty of around $250).
With the bundle, the hospital gets a fixed fee of around $28,000 and needs to pay for everything. So, referring to the diagram above, if they send the patient to a SNF they'll lose money and if the send the patient to home health they're likely to be profitable. You might be thinking that since you're home health, you're all set and in fact you're likely to get even more referrals. But wait, if the hospital discharges a patient who used to go to a nursing home to home health, it's very likely that the patient is going to need help with meals, toileting, and more. Sending a nurse for 30 minutes a week and a PT for 2 hours a week won't get it done. Plus, the hospital doesn't need to pay the OASIS rate, they're going to shop for the best provider at the lowest cost, and since they're losing money on SNF discharges, they're going to be looking to make it up on their discharges to home.
This post-acute care picture paints 1,000 words
The diagram below, courtesy of Dr. Josh Luke, sums it up. The hospital (meaning a readmission) is the last resort because the hospital won't be reimbursed for the readmission and will likely lose $8,000. SNFs are the second to last resort because they're a guaranteed loss for the hospital. Home Health is viable but CMS is trying to reduce the number of home health agencies (read our ebook on Home Health Value Based Payments).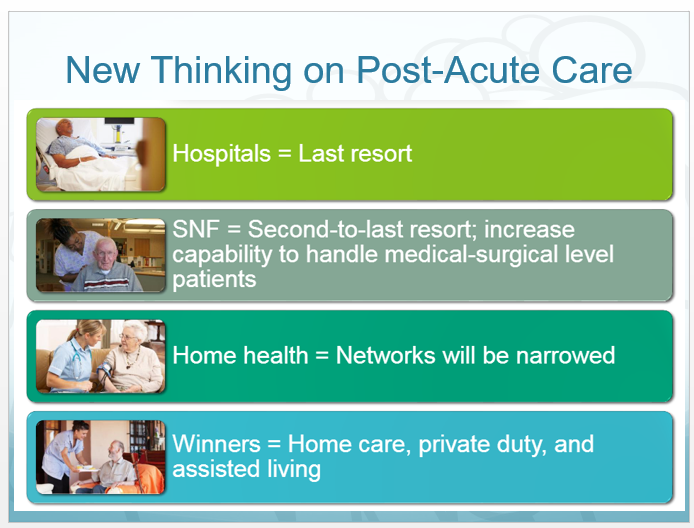 What Does this mean for Home Care?
Seeing the glass half-full, this represents a great opportunity for non-medical home care providers to participate in the reimbursed continuum of care. Our expectation at Ankota is that the historical divide between home health and non-medical home care will break down and that organizations will merge. The real leaders will also use call centers to drive patient adherence and behavior change and will use automation like our product Foresight Care to get early warnings to prevent hospitalizations.
Here's Your Homework:
If you read this article and smiled because this is the direction your agency is moving in, then I applaud you. For the rest of you, here's what to do:
One of Ankota's recent whitepapers, entitled "Selling Care Transition Services to Hospitals" is available for download and we think you'll find it useful. Please click the link or the picture below to download. If you're interested in scheduling an online demo of our home care or care transitions software solutions, just click this button: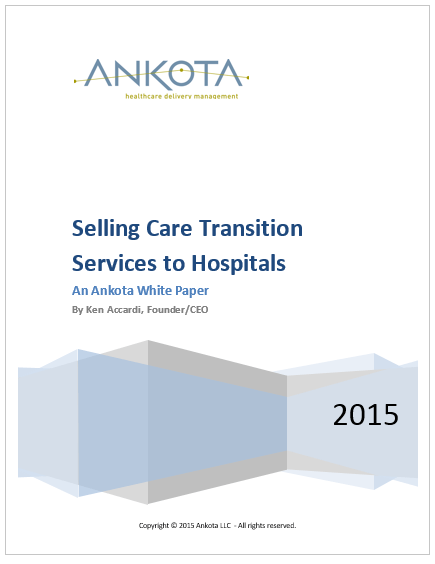 Ankota provides software to improve the delivery of care outside the hospital, focusing on efficiency and care coordination. Ankota's primary focus is on Care Transitions for Readmission avoidance and on management of Private Duty non-medical home care. To learn more, please visit www.ankota.com or contact us.