We've shared with you several stories about well funded home care start-ups with big venture capital money. The "big three" are Honor, Home Team, and Home Hero. If this is the first you're hearing about them, please check back with the following previous articles:
Honor Just Raised an Additional $42 Million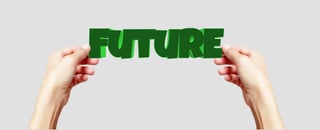 Of the three, Honor seems to get the most media attention. I think that part of this is because they're based in Silicon Valley and run by a Stanford grad who sold his previous company to Google, but of the three their funding was a measly $20 million. That's all changed now as they've added an additional $42 million in funding. The investment is nicely summarized in this article by Business Insider.
Based on this, you should be asking two key questions: 1) What are they doing differently? and 2) How can we compete. We'll take them one-by-one.
What are These Tech-Enabled

Home

Care

Players Doing Differently?
Some of the things that Honor is doing differently are as follows:
They're catering to clients and families who use smart phones: Honestly, a lot of today's home care agencies (and possibly you) view your market as today's typical 84 year-old who doesn't have a smart phone or Internet access in their home. Honor and these others realize that ALL of their children are smart phone users and in just a few years the baby boomers will be needing home care.

They're minimizing back office work: They're bringing processes like finding an available caregiver to the customer and also giving customers the chance to search for caregivers who they are likely to be compatible with.

In the case of Honor and Home Team, they're charging more and winning: They're giving their clients a feeling more like they're at the Ritz Carlton than and affluent families are willing to pay for it.

With this new funding, Honor's lead investor, Thrive is saying that it's important for Honor to "own the whole system.": They believe that they will have the technology to deliver a better customer experience, charge more and run agencies at much lower cost.
How C

an

You Win Against Honor and the Others?
There are a number of things that you can do to win against this very formidable new competition, as follows:
Embrace Technology for Competitive Advantage: If you're still debating whether to automate your timekeeping and billing, you won't have a very long future. Instead, you've got to be focused on engaging clients and their families in the process and minimizing back office cost.

Look where the market is going: Let's face it, private pay home care is only affordable to the very wealthiest people who are likely to want the Ritz Carleton experience and be willing to pay more. The other much bigger markets are the Medicaid and managed care world catering to the poor, the emerging ACO and bundled payment markets where hospitals and insurance companies will pay for home care for their expensive patients, and the biggest market, who are families not wealthy enough for private pay but not poor enough for Medicaid.
Bottom-Line is That You Need Next Generation Software
The next time you look for software (which should be now if the list below seems far off from where you are now) should give you the following:
Ability to have a mix of private pay, managed care, Medicaid, and other programs in your case mix

Ways to help you provide better care with fewer visits. This will make your service affordable to more families and help you deal with the caregiver shortage

Apps to keep your clients and their families connected

Optimization of resources such as scheduling cases based on proximity to caregivers and even support models where one caregiver supports multiple clients on the same shift

Integration with other systems like hospitals and home health so you can be part of managed care teams addressing bundles and ACOs
Let Us Know if We C

an

Help!
Ankota is focused on providing the software for the next generation of home care. We support all of the above concepts and are always looking for innovative partners who are ready to innovate in their care delivery models without $40 million war chests. If you're ready for next generation home care management, please contact us.
Also, you may want to check out our white paper, Why Care Transitions Is The Next Big Thing for the Home Care Industry If you're interested in learning more, just click the link to download.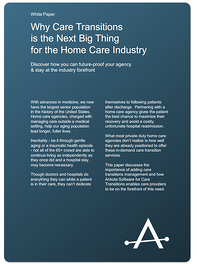 Ankota provides software to improve the delivery of care outside the hospital, focusing on efficiency and care coordination. Ankota's primary focus is on Care Transitions for Readmission avoidance and on management of Private Duty non-medical home care. To learn more, please visit www.ankota.com or contact us.