Today's article is an encore guest post from Heather Roberts. Her previous post, was on cleaning tips. This new post is just in time for spring and recommends gardening as an activity for caregivers to get their clients outside and give them a sense of purpose and pride.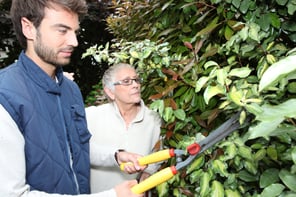 Getting some fresh air is always helpful to people's health, but if combined with some physical activity, this will really encourage seniors' well being. Yet, aged people are less likely to get involved in exercising just for the sake of exercise. An excellent idea for caregivers to promote the outdoor activities of their clients is to help them plant and grow a garden. This way the regular exercises will also provide them with a sense of purpose and accomplishment.
Strengthens the Caregiver-Senior Relationship
When caregivers and their clients work on something together a deeper and stronger connection is created. Caregivers may help the senior with the lawn care tasks or they can also weed, water, and finally pick the fruits of their common labor. The caregivers' company and gardening assistance will also be very beneficial to the social skills of the senior and will help them remain active, communicative and kind. It is very important that the caregiver makes sure that seniors hydrate, often have little rests and do not push themselves much. Knowing that the person who takes care for them is a reliable and attentive person will let the seniors feel way more comfortable while doing the garden maintenance or whatever activity.
Supports Emotional Health
Seeing the results of their work will surely boost the emotional well being of elder people. Planting and watching the greenery grow will make every senior feel fulfilled. Knowing that they are still able to take care of something and having control over the gardening process will help the preserve the sense of independence which many elder people lose when they start to need daily assistance. Being outside, connected and contributing to nature is a great way for the client to become more positive and the physical labor will undoubtedly improve their mood.
Improves Socialization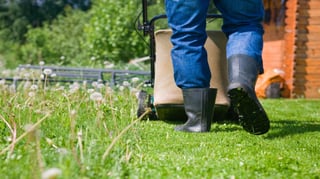 Elder people usually take great pride in several things – their children (and grand-children, of course), their homes and their gardens. Having an exquisite vegetable or flower garden can make seniors extremely proud and also very popular amongst their neighbors of the same age. With more neighbors coming to their house to take a look at the garden or just to exchange some gardening experience, seniors' social life will really improve. Exchanging advice and produce with other people will help the elder client make new friends and feel much happier.
Promotes Healthier Eating
Seniors will be more than happy to consume the herbs, vegetables and fruits they have grown on their own. They will also be excited to treat everyone with their produce. Eating fresh and organic products will surely support the organism of the senior and it will also be more affordable than a ready-made salad from the store. Having a personal garden provides people with much more healthy eating options which taste a lot better.
Every senior will certainly take a great advantage of having a garden and with a little bit of help by the caregivers, this will be an absolutely achievable and exciting experience
One of the key habits in our white paper, Seven Habits of Highly Effective Home Care Agencies, is to differentiate. Perhaps prospects will choose you if they know you'll do gardening with their loved ones.
If you're interested in scheduling an online demo of our home care or care transitions software solutions, just click this button: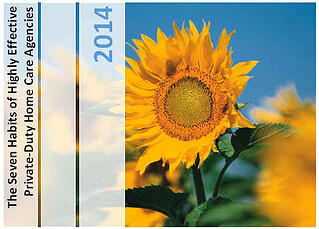 Ankota provides software to improve the delivery of care outside the hospital, focusing on efficiency and care coordination. Ankota's primary focus is on Care Transitions for Readmission avoidance and on management of Private Duty non-medical home care. To learn more, please visit www.ankota.com or contact us.