One of the industry experts I learn from every time we speak is Ginny Kenyon, principal at Kenyon Home Care Consulting. Ginny helps open home care agencies and has given Ankota great inputs on our software. We at Ankota strongly believe that keeping elderly people healthy and comfortable in their homes (and out of the hospital) is an important step in the evolution of healthcare. Ginny is one of the pioneers driving moves in home health delivery. Enjoy her post (below).
Running an organization can be a lot like playing the game of football. You compete, you train, you break a sweat. Sometimes you score amazing touchdowns, and sometimes you miss easy field goals.
Chronic disease education is that extra push you need to win the game of homecare. It gives you lightning feet to outrun your competitors and a strong defense to protect your best players which, in homecare, are your clients. Let's look at three game-changing benefits of chronic disease education.
Chronic Disease Education Prevents Penalties
In football, a penalty can cost you the game. And the cause behind most penalties – simple mistakes! A player on the line moves too soon, interferes with a pass or gets caught stepping out of bounds. There are a million easy-to-make errors in football that can cost a team valuable yardage.
The same is true of the homecare industry. When your caregivers aren't adequately educated, numerous mistakes can be made. Only, those affected are your frail clients, not some tough football players. And the results are far more detrimental than a lost game. Client hospitalizations, legal repercussions, fines and lost revenue occur as a consequence of poorly educated homecare aides.
With advanced aide education, you can rest assured that the majority of these penalties won't happen. Your caregivers will have the knowledge to handle even the most difficult situations.
Chronic Disease Education Scores New Clients
There are several ways to score in the game of football, from the obvious touchdown to the not-so-obvious safety. And don't forget about field goals. Coaches spend significant time and effort strategizing with their teams about the best way to score the most goals in each game. Doesn't it make sense to do the same with your homecare agency?
Chronic disease education meets goals and scores new clients for your organization with client satisfaction and professional referrals.
Client Satisfaction – Even in today's digital age, word of mouth continues to be the best method of advertisement. Chronic disease education gives your caregivers the knowledge and experience they need to provide superior care, which improves client satisfaction. And who better to spread the word about your agency than happy clients?

Professional Referrals – In homecare, it's important to foster mutually beneficial relationships with other medical professionals in your community. When these referral sources know you make the extra effort to provide advanced education, they become more trusting in your ability to deliver specialty care required by their patients.
Scoring is just as crucial in homecare as it is in football. With advanced education for aides, your chances of scoring big increase significantly.
Chronic Disease Education Creates a Competitive Edge
To be as competitive as possible, football teams watch replays of their opponents' games. They study the other team's strategy, best players, and weaknesses. By taking the time to educate themselves on these vital aspects, they develop a deeper competitive edge. When game time comes, they're ready.
The same can be said for chronic disease education. Studying worsening symptoms, treatment methods and potential warning signs for specific diseases gives your caregivers a knowledge that others in the field don't have. What does this mean for your agency? You can advertise and offer specialized services, thus outplaying your competition.
Why Choose Kenyon HomeCare Consulting's Aide University
As the only online continuing education program of its kind, Aide University teaches specific chronic disease care enabling organizational success. Aides gain the knowledge to become competent and provide quality care while furthering their careers and outshining their competition.
Courses provided at Aide University include the following topics:
Recognizing red flags

Decreasing hospitalizations

Lowering healthcare costs for clients

Proactively intervening on a client's behalf
CHRONIC DISEASE EDUCATION: WHAT ARE THE GAME CHANGING BENEFITS? first appeared in Kenyon HomeCare Consulting blog.
Ginny Kenyon is the founder and CEO of Kenyon HomeCare Consulting, a home health consulting firm that gives agencies a market advantage, promotes creative product development, and offers viable ways to achieve and sustain organizational and fiscal success.
------
One of Ankota's recent care transitions whitepapers, entitled "Selling Care Transition Services to Hospitals" is available for download and we think you'll find it useful. Please click the link or the picture below to download. If you're interested in scheduling an online demo of our home care or care transitions software solutions, just click this button: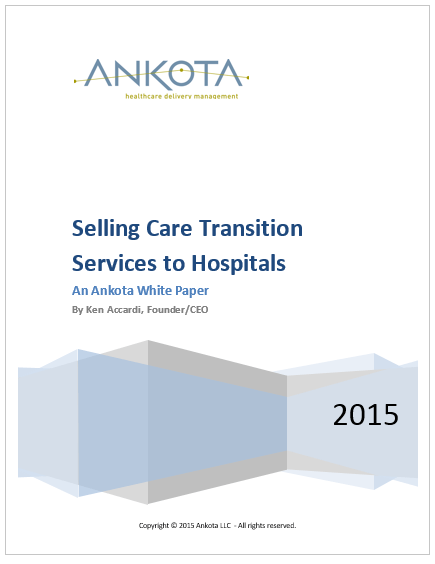 Ankota provides software to improve the delivery of care outside the hospital, focusing on efficiency and care coordination. Ankota's primary focus is on Care Transitions for Readmission avoidance and on management of Private Duty non-medical home care. To learn more, please visit www.ankota.com or contact us.