One of the industry experts I learn from every time we speak is Ginny Kenyon, principal at Kenyon Home Care Consulting. Ginny helps open home care agencies and has given Ankota great inputs on our software. We at Ankota strongly believe that keeping elderly people healthy and comfortable in their homes (and out of the hospital) is an important step in the evolution of healthcare. Ginny is one of the pioneers driving moves in home health delivery. Enjoy her post (below).
For those of you who follow Kenyon Connects regularly, know that Kenyon HomeCare Consulting has developed Chronic Disease University. This online platform targets aides and currently offers advanced education with 9 college level courses focusing on care of those with chronic disease and conditions. Why would I spend so much time and money to create this tool you ask? The simple answer is because health care is heading in a new and different direction. Third party payers such as Medicare, Medicaid and private insurance as well as individuals paying out of pocket are demanding value for the money spent.
The Value of Educating Today's Aides
What value do you contribute by continuing to staff cases with aides who are ill prepared to care for clients diagnosed with major health care issues? Today, aides not nurses provide "bedside" care equating to hours passed with these fragile clients. Therefore, these aides need to receive education on how to care for, recognize and understand their client's diseases and conditions. How can we expect aides to report to their nurse managers if they are unable to recognize symptoms and meaningful relay what they are seeing?
My Real Life Example
Let me give you one of my real life examples. Back in the mid 1970's, I was working for the Visiting Nurses Service, the only home health agency at the time. Most aides were hired as they came in and applied. There were no requirements for basic education, no criminal background checks and no reference checks, as there is now. Consequently, the caliber of aides varied widely.
One of the aides I worked with often was Rose. She had minimal education and was slow to recognize patient issues. Aides were assigned two hour shifts and responsible for personal care, housekeeping and meal preparation as reflected in the care plans. During unannounced supervisory visits, I frequently found Rose eating in front of the television watching her favorite soap opera. Consequently, the patient went without personal care, the house was a mess and no food was prepared.
One day I got a call from Rose about one of our patients, I will call him Carl. Rose said Carl didn't feel well. When I asked her how she knew "he doesn't feel well" she replied, "Because he says he doesn't feel good." I asked if she was looking at him and she replied yes. So I asked, "What does he look like?" She said, "He looks like he doesn't feel good." Needless to say I quickly reorganized my day and went to visit Carl.
A Nursing Visit To Carl
Upon arrival, the first thing I noted was Carl's fruity breath. Although a brittle diabetic, he had been in good control for the last two months. I checked his blood sugar and found a level of 580. Additionally in the fridge, I found three filled insulin syringes containing his weekend insulin doses. While assessing Carl, he admitted to being on a friend's boat all weekend partying and drinking, forgetting his insulin. This necessitated a call to his physician getting an order for short acting insulin. After picking the insulin up from the pharmacy, I returned to his home to administer the insulin. I gave Carl instructions to check his blood sugar in an hour, call me the results so I could report to the physician. An hour later his blood sugar was under 200 and his primary physician gave the order for me to visit the next day to reassess.
The Difference of Advanced Disease Education for Aides
This situation would have been much different if Rose was educated to recognize symptom changes in a diabetic patient. She would be able to recognize red flags and call me to report Carl's elevated blood sugar, fruity breath, and unused filled syringes. My immediate response would be a call to his physician getting orders for short acting insulin with dosage. Saving time, Rose could pick up the insulin so I could administer it as soon as I arrived. All these tasks would be accomplished in an hour instead of the three it took. Additionally, Rose could reinforce with Carl past teaching on the dangers of missing his daily insulin and the harmful effects of drinking for a diabetic.
Client/patient care must be a team effort. To be a member of the team, aides must receive disease education. They must be able to recognize symptom red flags and understand what and when to report to their supervisor. To become the agency of choice for referral sources, advanced disease training for aides is paramount.
Agency Rewards of Aide Advanced Disease Education
Think of the sales advantage when informing professionals at your local cardiac clinic that 20 of your 120 aides are certified in Congested Heart Failure (CHF). And then assuring them that these aides will be caring for all their patients. Think of the value your agency will contribute to the entire health care system. Unnecessary hospitalizations and ER visits will be avoided reducing health care costs. Think of the value you will bring as a partner in newly forming ACOs, Medical Homes and other groups. Think of the marketing and sales advantage over your competition!
Get started today! Provide your aides with advanced disease training. Give the comprehensive in-depth knowledge and skills needed to deliver five-star chronic disease care. Discover Aide University, the only online continuing education program of its kind.
Call 206-721-5091 or contact us to schedule an appointment for more information.
This article entitled, CREATING UNPARALLELED AIDE CARE WITH ADVANCED EDUCATION first appeared in Kenyon HomeCare Consulting blog.
------
One of Ankota's recent whitepapers, entitled "Seven Habits of Highly Effective Private Duty Home Care Agencies" available for download and we think you'll find it useful. Please click the link or the picture below to download. If you're interested in scheduling an online demo of our home care or care transitions software solutions, just click this button: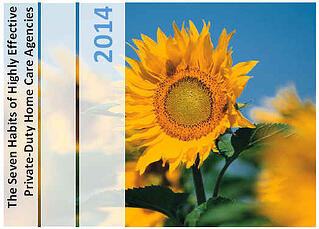 Ankota provides software to improve the delivery of care outside the hospital, focusing on efficiency and care coordination. Ankota's primary focus is on Care Transitions for Readmission avoidance and on management of Private Duty non-medical home care. To learn more, please visit www.ankota.com or contact us.