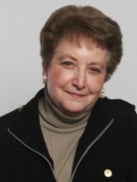 One of the industry experts I learn from every time we speak is Ginny Kenyon, principal at Kenyon Home Care Consulting. Ginny helps open home care agencies and has given Ankota great inputs on our software. We at Ankota strongly believe that keeping elderly people healthy and comfortable in their homes (and out of the hospital) is an important step in the evolution of healthcare. Ginny is one of the pioneers driving moves in home health delivery. Enjoy her post (below).

The temptation for some health care agencies is to decline requests for unusual in-home services because they are out of the mainstream and staff may not be trained to handle such requests. But there are reasons why these requests are worth a second look! In a saturated home care market, there are few things that can distinguish one organization from another, other than providing superior service. So the scramble to secure clients for in home care services should, at the very least, include an evaluation of the special services requested.
Unusual or Special In Home Care Services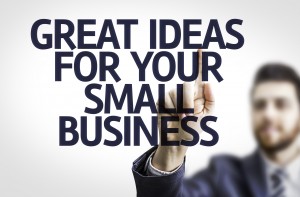 While there are countless home health care situations that require skilled medical care, some areas considered to be niche markets are described below. These should be considered if you specialize in home care services to gain a greater share of the competitive home care market.
Safety in the home. Assessments can be done by therapists and caregivers knowledgeable in home safety while providing recommendations for needed home modifications. Understanding specific chronic diseases and how prone these clients are to home accidents is a plus.

Parkinson's, dementia, and Alzheimer's care. Specialized care for these clients requires a high degree of knowledge when providing in home care services. Because these clients require special monitoring and care, your staff will need advanced chronic disease education. Currently, there is a huge market for caregivers certified in chronic disease management.

Assisted living. Clients who are safe at home but require various levels of assistance with medications, personal care and other aspects of care usually prefer in home care services as opposed to living in a nursing home.

Psychiatric care. These services require caregiver education, expertise and experience in caring for those with psychiatric illnesses. With many institutions being closed, caregivers trained to provide quality in home care services for these clients are in great demand.

Pediatric care. Caregivers skilled in specialized pediatric care are in great demand to provide in home care services for ill and high risk children.
Getting a Jump on the Competition
Survival in the fiercely competitive home care industry is becoming more difficult each year as more organizations jump into caring for baby boomers. With most of these agencies concentrating on the traditional areas of skilled home care or private duty, one of the best strategies for expanding your in home care services is to take a close look at niche markets such as those described above.
One drawback is that specialized services require advanced knowledge and experience for the caregivers assigned to those clients with special needs. Staff education is always a good investment and once your caregivers acquire the training and skill sets needed, your organization can penetrate specific niche markets.The education dollars will be money well spent as you watch your referrals soar. For new start-up agencies, researching what specialized in home care services are lacking in your service area is a must. Providing unusual specialized in home care services is a great way to ensure agency success.
DON'T TURN A DEAF EAR TO UNUSUAL REQUESTS FOR IN HOME CARE SERVICES first appeared in Kenyon HomeCare Consulting blog.
Ginny Kenyon is the founder and CEO of Kenyon HomeCare Consulting, a home health consulting firm that gives agencies a market advantage, promotes creative product development, and offers viable ways to achieve and sustain organizational and fiscal success.
------
If you're interested in differentiating yourself in the home care or home health marketplace, Ankota offers a free White Paper about the opportunity in Care Transitions, Why Care Transitions Is The Next Big Thing for the Home Care Industry Just click the link or the picture below to download.
If you'd like to schedule an online demo of our home care or care transitions software solutions, just click this button: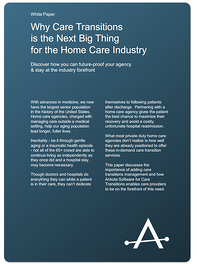 Ankota provides software to improve the delivery of care outside the hospital, focusing on efficiency and care coordination. Ankota's primary focus is on Care Transitions for Readmission avoidance and on management of Private Duty non-medical home care. To learn more, please visit www.ankota.com or contact us.