One of the industry experts I learn from every time we speak is Ginny Kenyon, principal at Kenyon Home Care Consulting. Ginny helps open home care agencies and has given Ankota great inputs on our software. We at Ankota strongly believe that keeping elderly people healthy and comfortable in their homes (and out of the hospital) is an important step in the evolution of healthcare. Ginny is one of the pioneers driving moves in home health delivery. Enjoy her post (below).
There's no shortage of methods for growing your homecare organization these days. But one sure-fire way to boost your growth – that you probably haven't thought of – is advanced chronic disease education for aides.
With numerous benefits to your staff, your clients, and your bottom line, homecare aide education should be an integral part of your growth strategy.
Why Educating Homecare Aides Matters
Caregivers receive training while becoming certified aides, so why is it important to focus your efforts on educating homecare aides further? The reasons are practically never-ending, but we'll start with these three:
Initial training isn't enough. Although aides are required to become certified prior to employment, the training is very basic and doesn't include specifics needed to adequately provide chronic disease care. In order to reap the rewards of a fully-educated staff, your aides must be knowledgeable of care beyond the basics.

Chronic diseases are on the rise. According to the CDC, chronic diseases (i.e. diabetes, heart disease, stroke) are the leading cause of death and disability in the United States. Unfortunately, the ability to treat these conditions isn't keeping pace with the rate at which the diseases are rising. Nationwide clients and/or their families are looking for specialized care to help manage symptoms and live as normal of life as possible.

The medical field is constantly changing. Technological advancements are responsible for the bulk of these changes. While this is certainly a good thing, it makes continuously educating homecare aides more crucial than ever.
It's no longer enough to employ average caregivers – not if you want to make a difference in the lives of your clients and grow your organization. Providing advanced chronic disease education is not only necessary, but also greatly advances your success.
Educating Homecare Aides Benefits Your Organization
When you provide advanced educate beyond the minimum requirements, you set your agency apart. Here are just three of the many benefits chronic disease education provides:
Creates an elite group of caregivers. What does this matter? Simply put, well-educated aides are elite having the ability to provide better care, which increases client satisfaction. When clients are satisfied, they tell referral sources. This has a positive snowball effect on your profit margin.

Sets you apart from the competition. As mentioned earlier, clients are in need of advanced chronic disease care now more than ever. Your competition isn't offering this level of care or the specialized services you offer when your aides are well-educated. So clients and referral sources will turn to you for the care they require.

Increases employee retention. Give your aides a career path and a reason to become an elite caregiver, and they'll stick with you longer. Research shows that employee replacement costs average about $75,000. That's a big chunk of change! Educating aides ensures that you'll avoid some of your current replacement costs.
Whichever reason for educating homecare aides resonates with you, there's no questioning the importance of advanced education. At Kenyon HomeCare Consulting, we offer everything you need to meet the needs of your community, satisfy clients and employees, and boost your bottom line – all through the one of it's kind, Aide University.
Check out our courses when you're ready to make a difference in your community, organization and your bottom line!
EDUCATING HOMECARE AIDES: WHAT YOU NEED TO KNOW! first appeared in Kenyon HomeCare Consulting blog.
Ginny Kenyon is the founder and CEO of Kenyon HomeCare Consulting, a home health consulting firm that gives agencies a market advantage, promotes creative product development, and offers viable ways to achieve and sustain organizational and fiscal success.
------
One of Ankota's recent care transitions whitepapers, entitled "Selling Care Transition Services to Hospitals" is available for download and we think you'll find it useful. Please download click the link or the picture blow for tips on how to construct optimal care transitions offerings and sell them to hospital partners in your geographies. If you're interested in scheduling an online demo of our home care or care transitions software solutions, just click this button: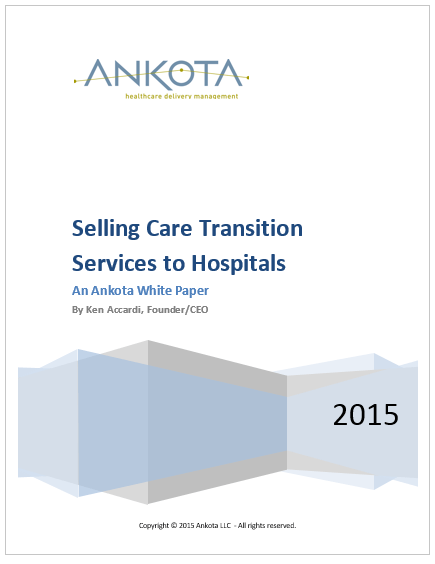 Ankota provides software to improve the delivery of care outside the hospital, focusing on efficiency and care coordination. Ankota's primary focus is on Care Transitions for Readmission avoidance and on management of Private Duty non-medical home care. To learn more, please visit www.ankota.com or contact us.