One of the industry experts I learn from every time we speak is Ginny Kenyon, principal at Kenyon Home Care Consulting. Ginny helps open home care agencies and has given Ankota great inputs on our software. We at Ankota strongly believe that keeping elderly people healthy and comfortable in their homes (and out of the hospital) is an important step in the evolution of healthcare. Ginny is one of the pioneers driving moves in home health delivery. Enjoy her post (below).
All administrators in health care acknowledge that education is one of the keys to assuring quality care. Educated staff are more effective and this ultimately leads to reduced costs for the entire health care system.
Health Care Education of the Past
Fifty years ago, when I first started nursing, Registered Nurses (RNs) and Licensed Practical Nurses (LPNs) were the focus of education as they were caring for patients at the bedside. Nurses, as the primary care staff occurred in hospitals, nursing homes and home health. Both home health and nursing homes had aides, but there were no standardized training requirements and each agency or organization developed and trained as they saw fit. RNs and LPNs were still the primary caregivers in these areas. But in the late 1980s, Health Care Financing Administration (HCFA), now called Center for Medicare/Medicaid Services (CMS), established basic training for all aides. Training and certification in fundamentals of care, was now a requirement for all aides in federally funded agencies. Then as now, very little education about diseases or care specific to individuals with primarily chronic diseases is thought necessary.
Is Health Care Education Any Different Today?
Fast forward to today. RNs and LPNs are no longer the primary caregivers at the bedside, particularly in nursing homes and home health. The Certified Nursing Assistant or aide is the primary caregiver working under the direction of the RN or LPN. Yet they still receive only minimal training and education in the most basic fundamentals of care.
Over the last ten years the readmission rate for hospitals, home health and nursing homes has been climbing. The data indicates that many of the readmissions are due to chronic disease. Some agencies or facilities have managed to reduce those rates with restructuring their delivery system, yet a total reduction eludes everyone.
When looking at data, the one missing link seems to be adequate aide education or lack thereof. To address this issue, Kenyon Consulting developed a series of WA DSHS certified eight-hour chronic disease specific courses, appropriate for both aide and nursing education. While the initial focus was on aides, we soon learned the courses were equally valuable educational tools for RNs and LPNs.
Education Test Subjects
To test to see if chronic disease education would have an impact on care and reduce readmission rates, staff caring for patients on a nursing home subacute care wing agreed to test 2 courses, Chronic Obstructive Pulmonary Disease (COPD) and Congestive Heart Failure (CHF). The sample group of 32 full time staff includes RNs, LPNs and aides. For the first half of 2015 prior to completing the courses, the readmission rate for this unit was 32. Of the patients readmitted from the pilot unit, 13 were due to CHF and 3 for COPD. For the entire 164 bed facility, the readmission rate totaled 57 for the same time period. Since 50% of all readmissions were for the two diagnosis of CHF and COPD, all 32 caregivers were to complete and pass CHF and COPD online courses to receive certification.
Chronic Disease Education and Hospital Readmission Results
Course completion and CHF and COPD certification occurred in June, July, and August of 2015. Data shows a decrease in hospital readmissions for the subacute wing during that quarter. By the end of the next quarter through December 2015, only 15 subacute readmissions were recorded with none for COPD or CHF. However, an unexpected result showed the entire facility experienced a marked reduction in hospital readmissions. Facility total readmissions for the last two quarters of 2015 was 29, with all 2015 readmissions equaling 87.
Nursing home data for 2016 indicates readmission reductions continue. From January through December 2016, only 27 readmissions occurred on the subacute wing, with none for COPD or CHF. During the same time, the entire facility also saw a reduction in readmissions totaling 71 or 13.4% for the entire year of 2016, with only one patient admission for COPD.
Chronic Disease Education Effects More Than Hospital Readmissions
The data demonstrates a significant benefit in educating all caregivers. However, to really improve care, all members of the caregiving team need chronic disease education. Nurses report that current education greatly updates their baseline knowledge. Aides report that the learning initially was difficult because the subject matter was entirely new. We found it best for nurse educators to be available as aides complete their course work to assist with questions and areas difficult to understand. This is particularly true for aides for whom English is a second language.
After course completion, the aides expressed feeling much better prepared to care for the patients with COPD and CHF diagnoses. And all wanted to know when they could take other online courses! Management staff reported staff morale improvements. But best of all, readmission results prove that advanced chronic disease education, makes a difference in quality of the care!
Kenyon and Chronic Disease Management
At Kenyon HomeCare Consulting, we make it simple for you to provide chronic disease management training. Aide University online courses deliver the knowledge and tools necessary for caregivers with to provide expert care to clients suffering from one or more debilitating conditions.
Give us a call at 206-721-5091 or schedule a time at your convenience to learn more about our chronic disease education program.
This article entitled, EDUCATION: PROVEN KEY TO HEALTH CARE ORGANIZATIONAL SUCCESS first appeared in Kenyon HomeCare Consulting blog.
------
One of Ankota's recent whitepapers, entitled "Seven Habits of Highly Effective Private Duty Home Care Agencies" available for download and we think you'll find it useful. Please click the link or the picture below to download. If you're interested in scheduling an online demo of our home care or care transitions software solutions, just click this button: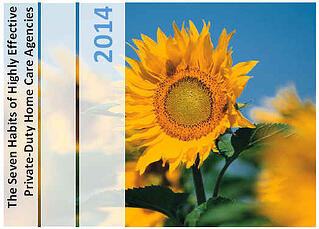 Ankota provides software to improve the delivery of care outside the hospital, focusing on efficiency and care coordination. Ankota's primary focus is on Care Transitions for Readmission avoidance and on management of Private Duty non-medical home care. To learn more, please visit www.ankota.com or contact us.