I read a really interesting article on Merrily Orsini's blog. Merrily is a home care marketing expert who runs the company Corecubed. The premise of the article is a suggestion that you call up your own agency pretending to be a new referral in order to evaluate the first impression that your agency makes. The article, written by Leigh-Anne Heuer is entitled, Marketing Mystery: Are You Spending Money to Get Inquiries and Turning Them Away.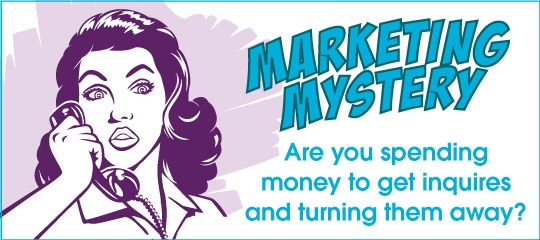 I used to work with a home care agency that had their phones answered by a call center in India. Nothing against India, but there was always a strange delay, followed by a heavily accented person welcoming me, followed by a long delay while they instant messaged other people in the company to see if they could transfer me. If I were calling to get care for my mom, there's no way I would have considered this agency.
Highlights from the Secret Shopper Article
I'd recommend that you read the full article, but here are a couple of the key takeaways:
Successful Home Care Agencies are busy, but it's unacceptable for this to reflect on the quality of how phone calls are handled. Long delays in answering or what comes across as harried service can cost you referrals

Agencies who aren't willing or able to describe their services are a turn-off to clients

Inability to send more information via email is also a negative. The article described cases where they were told "all our information is on the web site"

On a positive note, the article also said that mystery shopping lets you know when your service is good
What Impression is

your

Agency

Making?
If you have best practices to share about the ways that your agency is making a good impression, we'd love to hear them. The easiest way to share is to comment below. The goal of this blog is to educate agencies on best practices that we encounter. You can subscribe to the blog on the upper right of this screen.
Ankota's 3rd care transitions whitepaper, entitled "Selling Care Transition Services to Hospitals" is now available. Please download click the link or the picture blow for tips on how to construct optimal care transitions offerings and sell them to hospital partners in your geographies. If you're interested in scheduling an online demo of our home care or care transitions software solutions, just click this button: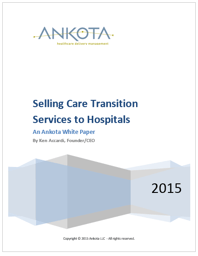 Ankota provides software to improve the delivery of care outside the hospital, focusing on efficiency and care coordination. Ankota's primary focus is on Care Transitions for Readmission avoidance and on management of Private Duty non-medical home care. To learn more, please visit www.ankota.com or contact us.