Demand for healthcare workers is at a 14 year high according to Bureau of Labor Statistics (BLS) figures shared in Cain Brothers Comments (Cain Brothers is an investment banking firm focused on the healthcare industry). According to the BLS graphic below, there were 1.8 job postings for each job filled in the healthcare industry, whereas the national average for jobs in general shows that supply and demand are in balance.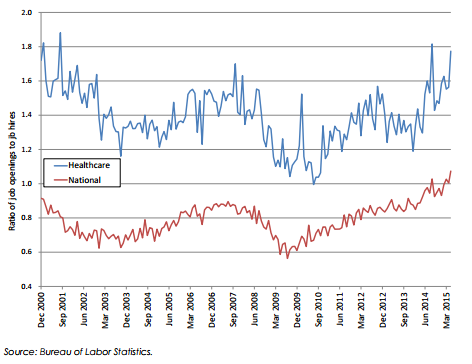 Causes of Healthcare Labor Shortfall
According to the article, nursing is the most critical area of need. There are several factors contributing, summarized here:
The last time the economy was strong, going into 2008, there was a similar issue with a 1.6-to-1 ratio of openings to hires.

Once the great recession hit and people became unemployed in many industries, nurses went back to work because they were in demand and in some cases their spouse became unemployed

Although not spelled out in this article, there was a decrease in demand for elective healthcare procedures when the economy went down

Now that the economy is getting back on track, nurses are cutting back on hours and in some cases retiring
What Does the Healthcare Worker Shortage mean for Home Care
This nursing shortage and a corresponding caregiver shortage is affecting home care agencies. More than ever, it's becoming time to treat your caregivers well and encourage them to refer their friends for work with your agency. It's also a time when different thinking will be required. Home care generally serves a relatively wealthy population who either have personal funds or long-term care insurance and also a relatively poor population who are covered by Medicaid and programs. In general, the Medicaid and program-sponsored care recipients receive less hours of care and sometimes are seen twice per day (in order to get their day started and their day finished). This technique may become more widespread, but it won't be enough.
Another part of the answer will come from technology such as home monitoring and route optimization so that care providers can spend more time with patients/clients and less time driving. Our goal in the Ankota blog is to educate rather than to sell, but we do have solutions that can help. Please contact Ankota to chat.
Thanks to Cain Brothers for the interesting article. You can sign up for Cain Brothers Comments by clicking on the banner below.

If you're interested in differentiating yourself in the home care or home health marketplace, Ankota offers a free White Paper about the opportunity in Care Transitions, Why Care Transitions Is The Next Big Thing for the Home Care Industry Just click the link or the picture below to download.
If you're interested in scheduling an online demo of our home care or care transitions software solutions, just click this button: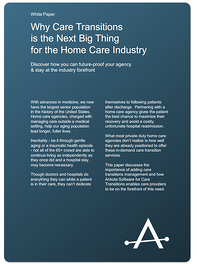 Ankota provides software to improve the delivery of care outside the hospital, focusing on efficiency and care coordination. Ankota's primary focus is on Care Transitions for Readmission avoidance and on management of Private Duty non-medical home care. To learn more, please visit www.ankota.com or contact us.