We generally blog about very specific and actionable ways that home care agencies can thrive. A lot of our content is about best practices and marketing, and we have a specific focus on managing care transitions, which we view as the right step for home care agencies to take now in order to position themselves for a broader role in the continuum of healthcare.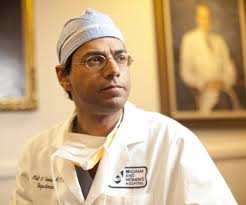 But, the biggest conundrum with managing care transitions and the biggest question we're asked is how do we pay for it? Everyone we talk to agrees that managing care transitions is a great way to avoid preventable hospitalizations, but the big question is always: "How do we get reimbursed or paid for care transitions work?"
It's tricky... We've offered advice on this topic before, including in a very popular recent blog post entitled, "2 Steps for Selling Your Home Care Agency's Care Transition Services to Hospitals." Today, we look at a totally different answer to that tough question. Perhaps we can fund care transitions by avoiding overkill in Medicare spending.
Medicare Spending Overkill
One of my favorite writers is Dr. Atul Gawande who writes and talks about how health care can be improved. He's written book that we reviewed called The Checklist Manifesto about how check lists, like the ones our home health aides use each day, are being used to save lives in critical care settings. He also writes on healthcare for the New Yorker magazine and his most recent New Yorker article, entitled, Overkill, is the subject of our post today.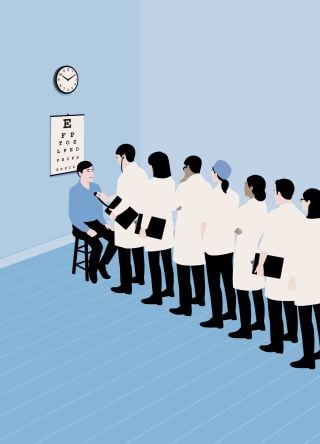 Dr. Gawande's articles and books are really compelling and I encourage you to read the full article, but the gist is that there are a bunch of medical services that are being performed regularly that deliver zero value for patients. Here are some key facts:
CT or MRI scans are often prescribed for lower back pain, whereas research shows that these tests are only useful if there are associated neurological disorders.

EEG exams are often prescribed for uncomplicated headaches, even though these exams are only useful for seizure disorders

Stents are routinely implanted in patients with stable cardiac disease, despite the fact that the likelihood of heart attack or death in five years is unaffected by the stent

The research cited by Dr. Gawande lists 25 useless procedures that are readily performed

In one year it was estimated that between 25% and 42% of the Medicare population (primarily made up of Americans over age 65) had at least one of these treatments

The amount of money waste on these procedures is more than America spends on K-12 education for the entire country
Perhaps eliminating this waste could fund all the care transition services that could virtually eliminate preventable hospital admissions?
What Can We Do Today?
Unfortunately, the problem described above isn't something that we can solve individually in our home care agencies, but there is something that we can do... We can start providing care transition services. Ankota provides care transition management capabilities with our home care software and we'd love to help you to futureproof your agency with it. Please download our free whitepaper "Why Care Transitions is the Next Big Thing for Home Care Agencies" (below).
Plus, please read the rest of the Atul Gawande article.
If you're interested in differentiating yourself in the marketplace, Ankota offers a free White Paper about the opportunity in Care Transitions, Why Care Transitions Is The Next Big Thing for the Home Care Industry Just click the link or the picture below to download.
If you're interested in scheduling an online demo of our home care or care transitions software solutions, just click this button: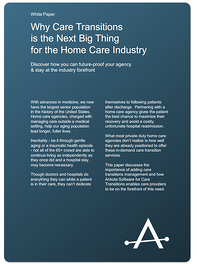 Ankota provides software to improve the delivery of care outside the hospital, focusing on efficiency and care coordination. Ankota's primary focus is on Care Transitions for Readmission avoidance and on management of Private Duty non-medical home care. To learn more, please visit www.ankota.com or contact us.