One of the industry experts I learn from every time we speak is Ginny Kenyon, principal at Kenyon Home Care Consulting. Ginny helps open home care agencies and has given Ankota great inputs on our software. We at Ankota strongly believe that keeping elderly people healthy and comfortable in their homes (and out of the hospital) is an important step in the evolution of healthcare. Ginny is one of the pioneers driving moves in home health delivery. Enjoy her post (below).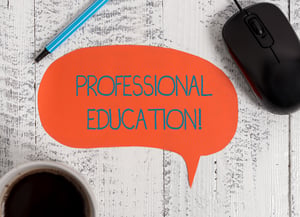 Home Health is preparing for another big challenge with payment reform moving into PDGM in 2020. As home care has always worked out a way to do more with less, the thing that always seems to take a back seat is education. Clinical knowledge and technical skill has always been key to properly manage the patient at home. But, as cuts continue to come and costs of doing business increase, it is often the first thing to be cut. It shouldn't be. If you wouldn't cut the trunk of the tree out and still expect it to stand, why do it in a clinically-based practice? Let's look at why it needs to be front and center as you move forward.
What We Face Today:
As predicted many years ago, the industry struggles to have the clinical staff available to care for the volume of patients today. The baby boom generation needs us now in a big way. This leads agencies to often hire nurses and aides quickly just to have the number of people needed to provide service. This doesn't mean we don't hire good people that can't be great long-term staff, but the point is to make sure each one has knowledge and training to be successful. Shortages of nurses and aide staff leave agencies with staff burn-out and holes in quality patient care. Nurses can't make 10 visits a day and do it well. In a PDGM world, the visit must be comprehensive and follow the care plan or it is waste time and money.
How Do We Best Get Staff The Clinical Knowledge They Need:
Years ago, as an agency, we looked at what made clinical staff leave. The numbers of those staff leaving due to the orientation process was alarming. Staff felt unprepared to take call and handle issues faced in the field by themselves. This came even from those with a previous home health background. Let's face it, times have changed. Documentation, Oasis, Emergency Preparedness, Care Coordination and Managed Care are just some of the items involved in the evolution of the home care visit. All of that comes on top of making sure the staff have properly cared for the patient. It is a lot for any staff member.
Enter education and training. It is time to re-vamp clinical training and learn to properly assess clinical knowledge. If you expect staff to be successful in the field, then you have to provide the right clinical knowledge to set them up for a win. This means looking at your whole system to determine if it has what it takes. Maybe you train well at orientation, but that is where it ends. Maybe you are the agency that pushes staff out of the nest to see who learns to fly. Agencies can't take the exact same approach to teach every staff member. It takes finding a formula for clinical knowledge that sticks. It begins with having a comprehensive ongoing program for chronic disease management. Chronic disease isn't going away, so agencies must find solutions to manage the patients at home.
This article entitled, "Home Care Education in 2019: Growing Clinical Knowledge And Technical Skill Is The Secret Sauce To Outcomes And Success In The Face Of Challenge!." first appeared in Kenyon HomeCare Consulting blog.
If you'd like to learn more about managing a Home Care business, please download Ankota's free e-Book by clicking the link below:
provides software to improve the delivery of care outside the hospital, focusing on efficiency and care coordination. Ankota's primary focus is on Care Transitions for Readmission avoidance and on management of Private Duty non-medical home care. To learn more, please visit www.ankota.com or contact us.