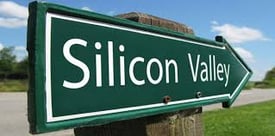 Silicon Valley and Wall Street are getting excited about caring for the elderly. A few pieces of evidence are as follows:
What Does This Investor Attention Mean for Traditional Home Care?
Investors get interested in markets where there's a lot of opportunity for growth and to disrupt the status quo. What this means, being blunt, is that there is strong belief that homecare can be done better than it is today and that technology can play a big part in it. So if your home care agency still sees technology as a necessary evil, you can be in trouble.
What Advantages Does Money Bring to the New Wave of Disruptive Innovators?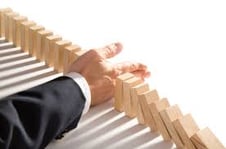 Seth Sternberg, the aforementioned founder and CEO of Honor was recently a featured speaker at the White House conference on Aging. Even though he's only been in this industry for roughly a year, his Ivy League pedigrees and silicon valley success have thrust him to the forefront of industry thought leaders in home care. As summarized in the article Why we need innovation in care for the aging, Sternberg, talks about the importance of the industry, the role that technology can play, the need to pay caregivers better (e.g.,$15/hour as opposed to $9.50) and he pledges that his company will provide $1M in free home care across 10 cities. This is the new normal for competition in home care.
Are You Ready to Up Your Technology Game in Your Home Care Agency?
If you're ready to up your game, consider partnering with Ankota. We have an innovation pipeline designed to keep you ahead of competition and to tie your home care agency into the continuum of care. More importantly, we are interested in incorporating your innovation ideas into the technology. We listen, we care, and we're able to innovate rapidly.
If we can help you with software for home care or care transitions, please contact Ankota.
Also, Ankota's 3rd care transitions whitepaper, entitled "Selling Care Transition Services to Hospitals" is now available. Please download click the link or the picture blow for tips on how to construct optimal care transitions offerings and sell them to hospital partners in your geographies. If you're interested in scheduling an online demo of our home care or care transitions software solutions, just click this button: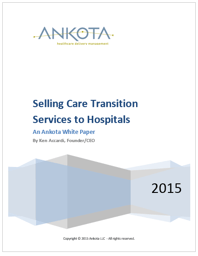 Ankota provides software to improve the delivery of care outside the hospital, focusing on efficiency and care coordination. Ankota's primary focus is on Care Transitions for Readmission avoidance and on management of Private Duty non-medical home care. To learn more, please visit www.ankota.com or contact us.