I'm often asked how I find the content for our Ankota Blog articles and how I'm always aware of the latest things going in in home care, payment reform, and technology. One of the ways that I'm able to keep up is via News Feeds. The tricky part, however, is to choose feeds that are interesting to you, your agency, and your audience. There are a lot of feeds out there, so if you're not careful you'll get overwhelmed and you won't have time to read any of the content, so choose wisely!
A few of the news feeds that I subscribe to, are as follows:
I also follow a couple of other feeds that are not related to home care, as follows:
SmartBrief: I follow for briefs on technology and entrepreneurship

LinkedIn Pulse: a service from LinkedIn that pushes content from your network and influencers
An Example from LinkedIn Pulse: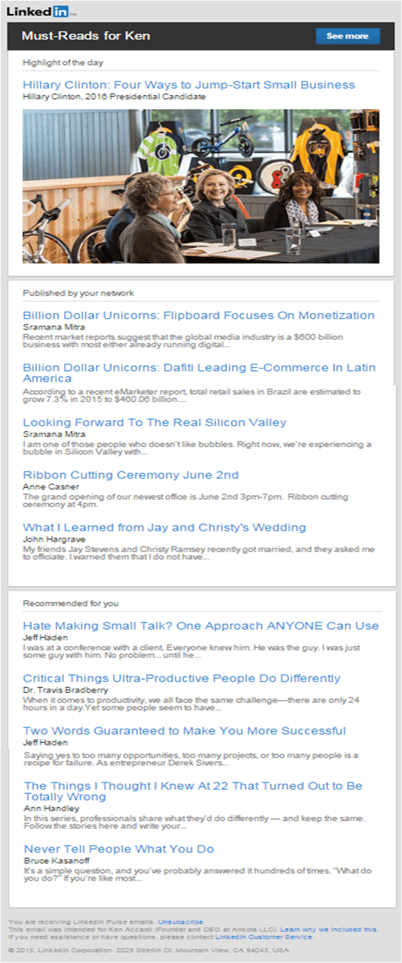 Here's a news feed that I received from LinkedIn Pulse, and what I did with it:
Hillary Clinton: Glanced at her ideas on jump-starting more small businesses

Sramana Mitra: Looked into what she had to say about funding companies smartly

John Hargrave: He described how a couple made their wedding all about the guests and how you should make your business all about the customers. Great story!

Jeff Haden: I read both of his articles. One was about making small talk and the other was about how to deal with overcommitment by using the two words "I don't" as opposed to "I can't"

Ann Handley: talked about thinking at 22 it was all about coming up to speed, becoming an expert, and then coasting...and how wrong that turned out to be

Bruce Kassanoff: encouraged people to answer the question "what do you do?" with what you aspire to do...He then talks about how it can be a self-fulfilling prophecy
Glancing at all of those articles took me less than 10 minutes and helped inspire me to think differently on some important topics.
Bottom line: choose a few news feeds that inspire you, and read them.
Special Offer from Hurricane Marketing Enterprises:
We recently ran a piece about an inspirational webinar led by Steve "the Hurricane" from Hurricane Marketing Enterprises. I was really inspired by his home care marketing tips and followed up with him. He gave me some great advice that I can use at Ankota and also was gracious enough to share a discount code for his upcoming marketing boot camp.
Click here and use the code ANKOTA50 (all caps) to get $50 off tuition.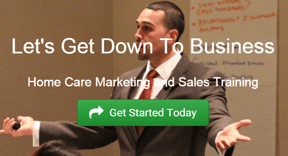 To learn more Home Care industry Best Practices, download Ankota's free white paper called the 7 Habits of Highly Effective Private Duty Home Care Agencies. Just click on the link above or the picture of the document below to download the paper.
If you're interested in scheduling an online demo of our home care or care transitions software solutions, just click this button: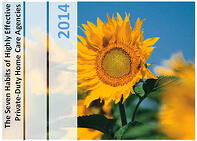 Ankota provides software to improve the delivery of care outside the hospital, focusing on efficiency and care coordination. Ankota's primary focus is on Care Transitions for Readmission avoidance and on management of Private Duty non-medical home care. To learn more, please visit www.ankota.com or contact us.