Posts by Home Care Software Geek in this blog don't talk about Home Care Nursing Software, Private Duty Telephony, DME Delivery Software, Care Transitions or the other topics we focus on regularly at Ankota. Instead, these posts are intended to keep our readers up to date with technology trends that might be useful to your agencies, such as social media technologies, mobile devices, and what's happening with bigger companies like Microsoft, Google and Apple.
Take a peek at the graph below, illustrating that more people are now browsing the web on mobile devices than on computer screens: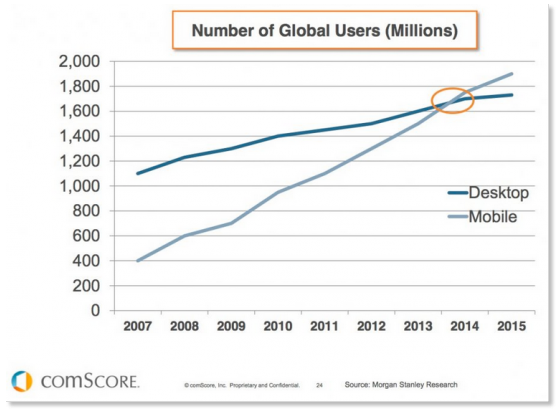 So, what does this mean for you and your business?
Your Home Care Web Site Needs to Look Good on Mobile Phones
By way of example, I Googled "Home Care Phoenix" and looked at the first couple of home care web sites that came up in the results. The first one, Cypress Home Care, looked like this in "full screen view." I'm able to see their name, phone number, 7 tabs, and other links like to their blog and contact page.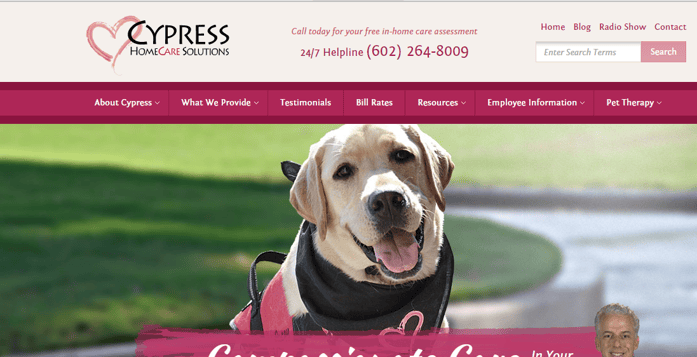 But now look what happens on a mobile phone sized screen (in fact, a very generously sized mobile phone screen). As you can see, we lose the phone number, 4 of the tabs, and the other links (like the contact page). This is not ideal, of course.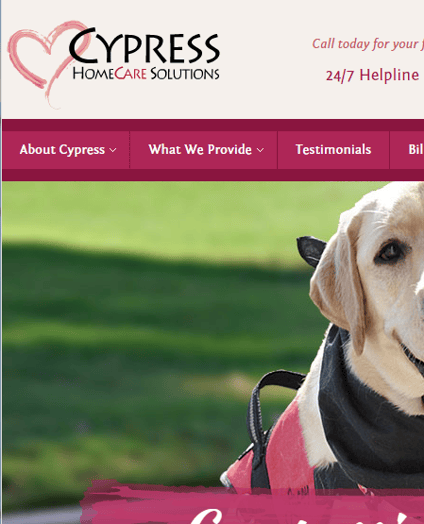 By contrast, the next entry was Home Instead. Here's their full screen view of their website:
Now here is Home Instead's "mobile view." In the mobile view we haven't lost any important information or tabs. The phone number is there. There is a "Menu" button that replaced the navigation tabs, and all the choices are there when you press the menu button. They even retained the picture (and resized it for the smaller screen).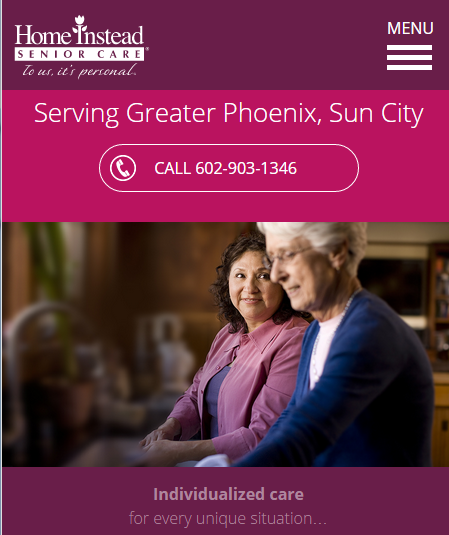 The solution used by the website designers of Home Instead incorporates a technique called Responsive Design. As it's name implies, the site "responds" to the available display real estate that it has to work with. So whether you're on a computer, a mobile phone or something in between like a tablet, your information will be available.
How Do I Fix My Site?
In general, the easiest way to move to a responsive website is to use a template. Most website hosting companies offer templates for free or for a small charge. Chances are that if you've created or redone your website in the past two years that it is responsive. Older sites generally are not.
In April, Google will lower the rankings of "mobile unfriendly" web sites
If your site isn't mobile-friendly, Google has announced that it will give it a lower ranking. So Cypress, who has earned their way to the top of the rankings for "Home Care Phoenix" might find out that as of April 22nd, that's no longer the case. Google is planning to change their algorithms on April 21st. We'll blog more about this in the future...
If you're interested in more Home Care industry Best Practices, Ankota offers a free white paper called the 7 Habits of Highly Effective Private Duty Home Care Agencies. Just click on the link above or the picture of the document below to download the paper.
If you're interested in learning more about our home care or care transitions management solutions, just click the button below to schedule a demo.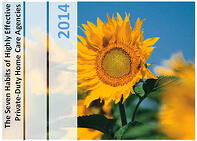 Ankota provides software to improve the delivery of care outside the hospital, focusing on efficiency and care coordination. Ankota's primary focus is on Care Transitions for Readmission avoidance and on management of Private Duty non-medical home care. To learn more, please visit www.ankota.com or contact us.