Posts by Home Care Software Geek in this blog don't talk about Home Care Nursing Software, Private Duty Telephony, DME Delivery Software, Care Transitions or the other topics we focus on regularly at Ankota. Instead, these posts are intended to keep our readers up to date with technology trends that might be useful to your agencies, such as social media technologies, mobile devices, and what's happening with bigger companies like Microsoft, Google and Apple.
People shop a lot differently than they used to, and as I'm sure you know, a great deal of shopping these days starts on the Internet (and mostly with Google). Case in point, if you search for "Home Care Software Geek" on Google, you see two paid advertisements and then Ankota pops to the top of the list. Not a lot of people are searching for a home care software geek, but the bottom line is that blog posts like this one gave me that ranking and have increased the "mojo" of our entire site. This all falls into the realm of Search Engine Optimization (SEO)
"Being on the first page of a Google search is a big deal for your home care agency and greatly increases your chances of being found."

I really respect a super geek (unrelated to home care) by the name of Dharmesh Shah. Dharmesh is the cofounder of a company called HubSpot, that helps companies market themselves better on the web. He's a top expert in the field of Internet marketing. Last week he offered a snarky post on a topic that the SEO gurus are debating. You don't really need to understand what the debate is about to understand his snarky post, but in a nutshell, it's his response to an argument about where the slashes are in the way that web sites are laid out.
Here's his answer, in the form of a humorous flow chart: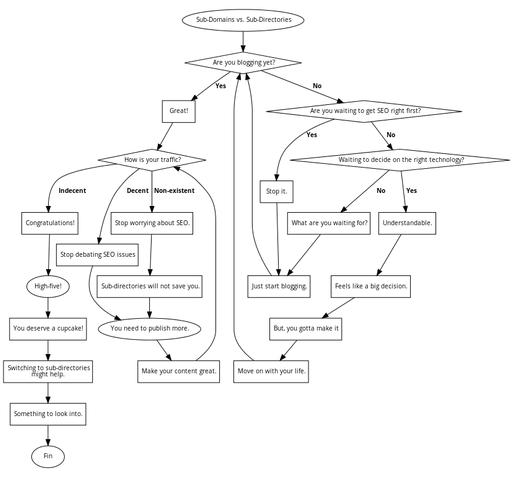 The Bottom Line is that Blogging is the key to SEO.
Here are a few other articles about blogging that you might find useful:
Blogging is an easy and important way to increase website traffic, leads, and customers. So let's all get to it!
For other home care best practices, please download the 7 Habits of Highly Effective Private Duty Home Care Agencies. Just click the link to download our list of what we've found successful agencies tend to have as habits.
If you're interested in learning more about our home care management software solutions, or about our Care Transitions component as a way to increase revenue, just click the button below: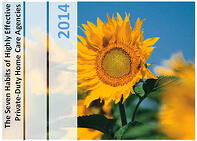 Ankota provides software to improve the delivery of care outside the hospital, focusing on efficiency and care coordination. Ankota's primary focus is on Care Transitions for Readmission avoidance and on management of Private Duty non-medical home care. To learn more, please visit www.ankota.com or contact us.