One of the industry experts I learn from every time we speak is Ginny Kenyon, principal at Kenyon Home Care Consulting. Ginny helps open home care agencies and has given Ankota great inputs on our software. We at Ankota strongly believe that keeping elderly people healthy and comfortable in their homes (and out of the hospital) is an important step in the evolution of healthcare. Ginny is one of the pioneers driving moves in home health delivery. Enjoy her post (below).
The Universal Homes Of The Future
I am hearing more and more about Universal homes these days and it is beginning to appear in home health related news. "Universal design, also called barrier-free design, focuses on making the house safe and accessible for everyone, regardless of age, physical ability, or stature. True aging in place!
When thinking of home design for disabilities, most of us think immediately of ramps and grab bars when we think of accessible housing, but universal design goes far beyond that while remaining largely invisible to the casual observer. In fact, applying universal design concepts such as wider doors and hallways makes a house feel more spacious."
As Fred Astaire said, "Old age is like everything else,". "To make a success of it, you've got to start young." These same principles apply to home design: Plan for all stages of life when remodeling or building, even if you are in perfect health now. You never know what life may throw your way, be it be a minor mishap (breaking your leg) or something more serious (being confined to a wheelchair)"
The most important aspect of Universal Design is flexibility. Remember that technologies are always evolving and your lifestyle is similarly inclined to change at a moment's notice. Universal Design allows your home to transition with you as life happens rather than forcing you to work around frustrating barriers.
So, what will the home of the future look like? The following is just a beginning of what I am seeing architects begin to incorporate into home designs:
There will be limited use of stairs,

lighting systems will be automatic, coming on when someone enters a space and turn off when they leave [motion sensors]

large windows, French doors, placed throughout the house to maximize natural lighting. Additionally, the use of skylights and solar tubes to bring in natural light

Curbless showers, grab bars designed to look like part of the feature not like an addition, towel and robe hooks next to the shower, recessed storage in the shower for soap, shampoo and conditioner

Faucets throughout the house that works with touch or movement

Levered handles on doors

Soft slide cabinet and drawers that require little effort to open and close

Slip resistant floors

Cabinets that sit on the counter space for easy access

Increased space between areas especially in the kitchen that accommodate a wheelchair or a walker
These are a few of the elements that we will be seeing in all home designs and remodels.
This article entitled, "The Homes Of The Now And The Future; The Universal Home", first appeared in Kenyon HomeCare Consulting blog.
------
One of Ankota's whitepapers, entitled "Seven Habits of Highly Effective Private Duty Home Care Agencies" available for download and we think you'll find it useful. Please click the link or the picture below to download. If you're interested in scheduling an online demo of our home care or care transitions software solutions, just click this button: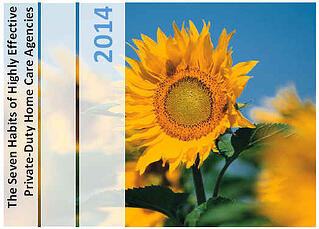 Ankota provides software to improve the delivery of care outside the hospital, focusing on efficiency and care coordination. Ankota's primary focus is on Care Transitions for Readmission avoidance and on management of Private Duty non-medical home care. To learn more, please visit www.ankota.com or contact us.