If this is the first blog article that you're reading related to care transitions, you've got some catching up to do. Here's the run down:
Medicare spends around $26 Billion per year on readmissions

A readmission occurs when a person is treated and is discharged but they end up back in the hospital shortly after

It is estimated that at least half of these readmissions can be avoided

Transitional Care is the term most commonly used to describe the care that helps an individual move successfully from one care environment (such as the hospital) to another care environment (such as their home)

In order to reduce avoidable readmissions, CMS (the Committee for Medicare and Medicaid Services) instituted a readmission penalty program that is now in its third year.

The program has had a positive impact but not an overwhelming one. The reason is that the penalties are somewhat small (averaging $250 per readmission) whereas the fees for the readmission are generally above $5,000.

There's a new announcement from CMS that starts to change this equation. Read on...
CMS is proposing Bundled Payments for Knee and Hip Replacements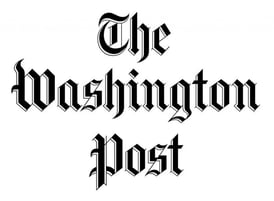 The proposal is to pilot bundled payments for hip and knee replacements in approximately 800 US hospitals starting on January 1, 2016. The concept of bundled payments is to pay a fixed price for all expenses related to a procedure (such as a knee replacement) instead of paying for each of the individual services performed. There would not be an additional reimbursement for a readmission. A Washington Post article detailing this information further is available at this link.
On a personal note, I will be having a knee replacement myself. You don't need to be a radiologist to see the issues in my knee x-ray.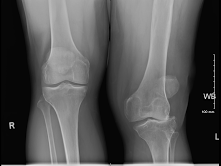 What do Bundled Payments Mean to Home Care and Home Health?
Although this initial program is relatively small and only expected to save $150M, it represents a blue print for the future of reimbursement in the "Pay per Value" paradigm (as opposed to "Pay per Service"). There can be big ramifications for home care, including the following:
Hospitals will push for shorter home health stays to increase their profit

Similarly, hospitals may be inclined to cut home health out of the loop

But, hospitals will be highly motivated to avoid readmissions, because the money will come directly out of their profits. They will look for partners in their communities and will also look at technology solutions like telehealth

Home health and home care agencies can win in this equation by providing affordable readmission programs that are proven to reduce readmissions

Home health, in particular will need to start shifting to shorter and less expensive episodes with same or better efficacy
New Whitepaper Available on Selling Care Transition Services to Hospitals
Ankota's 3rd care transitions whitepaper, entitled "Selling Care Transition Services to Hospitals" is now available. Please download click the link or the picture blow for tips on how to construct optimal care transitions offerings and sell them to hospital partners in your geographies.
If you're interested in scheduling an online demo of our home care or care transitions software solutions, just click this button: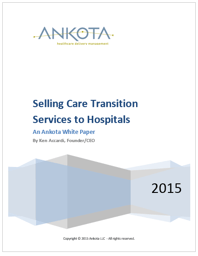 Ankota provides software to improve the delivery of care outside the hospital, focusing on efficiency and care coordination. Ankota's primary focus is on Care Transitions for Readmission avoidance and on management of Private Duty non-medical home care. To learn more, please visit www.ankota.com or contact us.