One of the industry experts I learn from every time we speak is Ginny Kenyon, principal at Kenyon Home Care Consulting. Ginny helps open home care agencies and has given Ankota great inputs on our software. We at Ankota strongly believe that keeping elderly people healthy and comfortable in their homes (and out of the hospital) is an important step in the evolution of healthcare. Ginny is one of the pioneers driving moves in home health delivery. Enjoy her post (below).
Imagine this…. You've launched the homecare startup of your dreams. You're happy to go to work, knowing you make a positive difference in the lives of your clients every day. Your employees stay on track and follow policies, procedures and processes. You have a steady stream of referrals, both professional and client-based.
Sounds great, right? It's not just a dream; it can happen – with a little hard work and a lot of determination. Continue reading to learn what it takes to turn your dreams into reality!
Don't Become a Homecare Startup Statistic: Plan Ahead
Before you can start reaping the rewards of your hard work, you must be prepared. To be successful, complete these basic steps before opening your doors:
Do your research – Check out the area competition and demographics before settling on a location.

Create a business plan – This is obvious, but often gets pushed to the bottom of the to-do list. It's important to create a plan that works for your specific situation and meets your established goals.

Secure adequate funds – It will take a year or more to start seeing a profit from your homecare organization. Be sure to plan for startup costs like payroll and equipment.

Design a marketing plan – Get a head start by educating the community and promote your agency even before you open for business. Join a networking group, start a blog, advertise in local publications.

Obtain resources – You'll need documents like hiring forms and policy and procedure manuals. Secure these customizable resources early to reduce your stress level and save time and money.
Don't Become a Homecare Startup Statistic: Continue Moving Forward
Once your agency is off the ground and running, it's important to continue your efforts to avoid becoming a failed startup statistic. Here are five tips to keep in mind.
1. Prepare Your Employees
Employees are the backbone of any business. Hire the right employees from the start and adequately preparing them for their job. This equals less turnover, happier clients and greater profits.
Look for experienced homecare caregivers who are flexible and understand the delicacies of providing care in private homes. Be sure employees are aware of the possible living conditions they may encounter. Situations like clutter, the lack of a clean place to wash hands, pet odor, and no air conditioning are not uncommon.
2. Establish and Enforce Good Processes
To avoid becoming another homecare startup statistic, provide and follow firm policies and procedures from the very beginning. Even the best employees fail without good processes to follow. Successful processes ensure:
Compliance with government requirements

How and when to contact a supervisor

Establishment of caregiver/client boundaries

Recognition of signs indicating neglect or abuse

Staff expectations (what to wear, time allowed for completing paperwork, etc.)
3. Provide Services That Meet Needs
Continue to meet needs and clients/families/referral sources will seek out your services. This may mean providing specialized services that are lacking in your service area (think chronic disease care) or working with other health professionals to determine how together you can reduce rehospitalizations.
Consider reaching out to various members of your community through advertising, education, or by sponsoring an event. Be visible and part of the community and they will remember you when your services are needed.
4. Work With an Industry Expert
Every worthwhile endeavor in life calls for a knowledgeable, dependable partner. Whether you're training for a marathon, learning to cook like a gourmet chef, or starting a business, having an expert on your side is a sure path to success.
A partner in the homecare industry helps you:
Stay competitive in an overwhelmed market

Build new and better referral relationships

Navigate the waters of government regulations and accreditation

Properly educate aides to create an elite staff
5. Join a State or National Association
Being part of a homecare association provides you with the tools needed to continue your prosperous homecare journey. From ongoing educational support to updates regarding government changes and industry news, the resources you find with an association are significant.
Embarking on a homecare startup is an exciting time. Unfortunately, without the right preparation it's easy to become the next startup statistic. Take the advice mentioned here and contact us for the best possible chance of success.
This article, HOW TO AVOID BECOMING A HOMECARE STARTUP STATISTIC, first appeared in Kenyon HomeCare Consulting blog.
------
One of Ankota's recent whitepapers, entitled "Selling Care Transition Services to Hospitals" is available for download and we think you'll find it useful. Please click the link or the picture below to download. If you're interested in scheduling an online demo of our home care or care transitions software solutions, just click this button: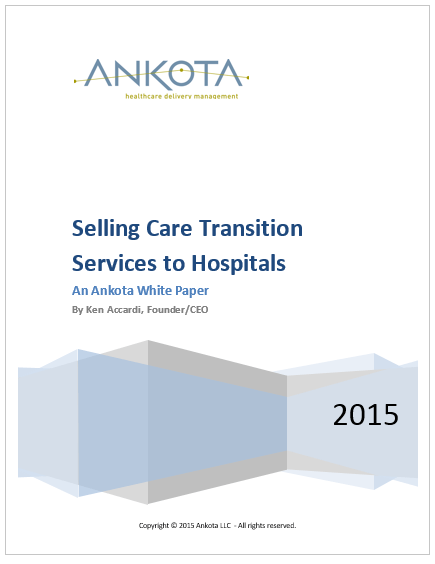 Ankota provides software to improve the delivery of care outside the hospital, focusing on efficiency and care coordination. Ankota's primary focus is on Care Transitions for Readmission avoidance and on management of Private Duty non-medical home care. To learn more, please visit www.ankota.com or contact us.