One of the industry experts I learn from every time we speak is Ginny Kenyon, principal at Kenyon Home Care Consulting. Ginny helps open home care agencies and has given Ankota great inputs on our software. We at Ankota strongly believe that keeping elderly people healthy and comfortable in their homes (and out of the hospital) is an important step in the evolution of healthcare. Ginny is one of the pioneers driving moves in home health delivery. Enjoy her post (below).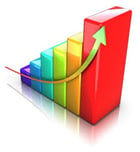 If you own or manage a nursing home, hospice, or assisted living facility and are looking to expand your services, a homecare start-up is something to seriously consider. Because of your existing organization, you have an advantage when launching a new homecare agency. Your established resources give you a head start toward increasing profits. Keep reading to learn about the benefits you'll see when adding a homecare agency to your business profile, and the best ways to increase your profits during a start-up.
Benefits of a Homecare Start-Up
You already have benefits ready and waiting when it's time to start a new homecare organization, due to the nature of your existing business. Take a look at a few of them here.
Automatic referral source – You already have an excellent source of referrals for your new homecare agency: your current organization. Your clients and their families may need additional services in the future, and who will they turn to? Someone they've already built a relationship with, someone they trust- you!

Established relationship with health professionals – You deal with doctors, nurses, and discharge planners on a regular basis. Since you have a current working relationship with these professionals, they're likely to refer clients to the services provided by your homecare start-up.

Community reputation – Because you have an established business with a sterling caregiver reputation, you are considered an expert within your community. The people you come in contact with needing the additional services provided by your start-up will be happy to support your new business endeavor.
With these built-in benefits, the question you should be asking isn't if you should consider a homecare start-up; but rather, how to make the most of your homecare start-up. Lucky for you, we've got the answers you need right here.
Increasing Profits With a Homecare Start-Up
Opening any new business is taxing on your budget, but there are things you can do when planning the launch of your homecare agency to make the best use of your resources. Consider these tips:
Cross-train your existing staff. You already have the most important resource needed for a successful launch – employees. Training your team members to work in both organizations cuts back on new-hire costs and helps you streamline operations more efficiently.

Train new and existing staff on chronic diseases. Providing advanced chronic disease education for all team members, allows you to improve the quality of client care and offer specialized services as a feature of the homecare start-up. Offering specialty care has the ability to significantly increase your profits.

Hire a consultant. There are many steps involved with opening a new homecare start-up. From legal issues to employee paperwork requirements, a professional with experience in the homecare industry helps you avoid pitfalls and stay on track. Someone who understands this involved and lengthy process is needed to avoid pushing double-duty onto your current staff and to save you time and money.
Additional Considerations During a Homecare Start-Up
In addition to the tips mentioned above, take the time to complete these important steps.
Construct a comprehensive business plan. Don't overlook the importance of writing out every step of the process so that nothing gets missed in the chaos. Working with a expert who has start-up experience is a benefit.

Evaluate demographics and competition. You need to know all the facts before committing to this new venture .

Secure sufficient funds. Required licensing can take up to a year to obtain, so have a financial cushion in your budget to cover your waiting time.
There's no better time to start a homecare agency than right now! You've got resources, caring expertise and the reputation. Jump at the opportunity to make the most of this advantage. If you have any questions, contact Kenyon Homecare Consulting. We're here to push you toward success.
HOW TO INCREASE PROFITS WITH A HOMECARE START-UP first appeared in Kenyon HomeCare Consulting blog.
Ginny Kenyon is the founder and CEO of Kenyon HomeCare Consulting, a home health consulting firm that gives agencies a market advantage, promotes creative product development, and offers viable ways to achieve and sustain organizational and fiscal success.
------
Ankota's latest care transitions whitepaper, entitled "Selling Care Transition Services to Hospitals" is now available. Please download click the link or the picture blow for tips on how to construct optimal care transitions offerings and sell them to hospital partners in your geographies. If you're interested in scheduling an online demo of our home care or care transitions software solutions, just click this button: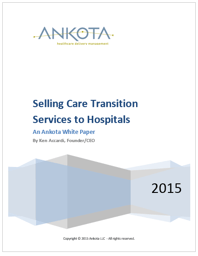 If you'd like to schedule an online demo of our home care or care transitions software solutions, just click this button:
Ankota provides software to improve the delivery of care outside the hospital, focusing on efficiency and care coordination. Ankota's primary focus is on Care Transitions for Readmission avoidance and on management of Private Duty non-medical home care. To learn more, please visit www.ankota.com or contact us.