One of the industry experts I learn from every time we speak is Ginny Kenyon, principal at Kenyon Home Care Consulting. Ginny helps open home care agencies and has given Ankota great inputs on our software. We at Ankota strongly believe that keeping elderly people healthy and comfortable in their homes (and out of the hospital) is an important step in the evolution of healthcare. Ginny is one of the pioneers driving moves in home health delivery. Enjoy her post (below).
There's a serious crisis going on in our nation regarding patient care. Due to an aging Baby Boomer generation, there is an increase of people needing long-term healthcare options. We're also experiencing a shortage of healthcare workers, often a result of poor employee retention. In this article, we'll discuss why this retention problem exists, its effect on patient care, and how you can combat it.
Causes & Effects of the Retention Challenge
Nurses, aides, and other healthcare workers are a vital part of the patient care equation. Without qualified and dedicated caregivers, patients fail to receive the level of care they so desperately need. Unfortunately, healthcare employees as a group tend to move around from job to job searching for the perfect career opportunity. Although, what they generally find is:
Poor benefits

Lack of respect

Low wages

Few career advancement opportunities

Physical and mental demands
Employee retention in the homecare arena is struggling and affects more than the business's bottom line. It influences the kind of care your patients receive, their quality of life and their health. Continuing retention difficulties will also disrupt your organizational culture and sense of team.
When caregivers stay in the same place long-term, they build strong patient relationships and trust. This means they get to know their patients' needs and preferences, making life more comfortable for those under their care. But when homecare employees come and go, no one is given the chance to develop relationships. This results in distress, worry, frustration and often discomfort for your patients and their families.
Solving the Retention Challenge
What can homecare managers or owners do to combat the problem of poor employee retention? Start by giving appreciation and respect to your workers on a regular basis, and then consider implementing the following:
Health insurance, sick leave and other benefits

An encouraging workplace culture

Better job design

Opportunities for career advancement or becoming elite staff

Improved pay
While some of these things appear costly at first, they are well worth the price. This is especially evident when you consider the data showing the cost of replacing just one employee costs you between $3,500 and $6,000.
Advanced Education and the Retention Challenge
If resources are too scarce for your organization to increase pay or offer health insurance benefits, consider less expensive options. One opportunity and a proven way to encourage staff to remain in your employ without breaking the bank, is advanced education.
With advanced education, you not only improve the level of training employees receive but you also provide career advancement and growth possibilities. This alone is often enough to improve retention. Advanced education also results in a more encouraging agency culture, improves staff satisfaction and boosts employee confidence with knowledge. So with this one step, you're knocking out four ways to solve your retention challenge.
Advanced Education and Kenyon HomeCare Consulting
When you're ready to work on solving the employee retention problem facing today's healthcare industry, you'll want to seriously consider providing an advanced education program.
At Kenyon HomeCare Consulting's Aide University, homecare workers receive the in-depth knowledge necessary for providing five-star patient care. With this training, employees also attain valuable skills that allow for career advancement. Reach out to us today to learn more.
This article, HOW TO SOLVE RETENTION PROBLEMS WITH ADVANCED EDUCATION first appeared in Kenyon HomeCare Consulting blog.
------
One of Ankota's recent whitepapers, entitled "Selling Care Transition Services to Hospitals" is available for download and we think you'll find it useful. Please click the link or the picture below to download. If you're interested in scheduling an online demo of our home care or care transitions software solutions, just click this button: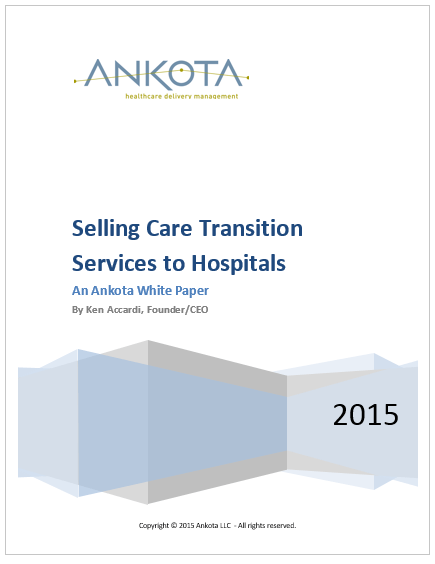 Ankota provides software to improve the delivery of care outside the hospital, focusing on efficiency and care coordination. Ankota's primary focus is on Care Transitions for Readmission avoidance and on management of Private Duty non-medical home care. To learn more, please visit www.ankota.com or contact us.