One of the industry experts I learn from every time we speak is Ginny Kenyon, principal at Kenyon Home Care Consulting. Ginny helps open home care agencies and has given Ankota great inputs on our software. We at Ankota strongly believe that keeping elderly people healthy and comfortable in their homes (and out of the hospital) is an important step in the evolution of healthcare. Ginny is one of the pioneers driving moves in home health delivery. Enjoy her post (below).
As a homecare agency owner or manager, your number one goal is to provide the best care possible. You didn't go into this field for naught; you truly care about the well-being of those in your community. The best way to give clients the care they so desperately need? By offering specialized services.
Advanced Education Creates Opportunity
Unfortunately, not every homecare organization has the capability to offer these services to their clients. But with advanced education, focusing on chronic disease care, you will be a step ahead of the competition. Here, we discuss three ways in which providing advanced education leads to the implementation of new services.
1. More Knowledge Brings Better Ability
It's a simple concept crucial to the success of your homecare agency. Knowledge is king in today's healthcare field. Increasingly more adults suffer from at least one chronic disease, meaning they need help that goes beyond the basic homecare call of duty.
The bad news? Standard aide training doesn't adequately prepare caregivers to handle the special needs that accompany chronic conditions, such as dementia or COPD. But with advanced education, your aides gather care knowledge necessary to provide specialized chronic disease care services.
2. Better Caregiver Ability Creates Demand
When your aides receive advanced education, they recognize worsening symptoms early resulting in quick intervention which prevents rehospitalizations. Word gets around fast! Clients, families, and referral sources discover that your organization is meeting specialized needs through chronic disease care management. For example, symptoms like confusion or shortness of breath, require lifestyle changes, and work arounds. When certified, your aides understand the changes occurring as a result of particular conditions and how to modify care by writing down instructions for forgetful clients and handling shortness of breathe by allowing additional time for ADLs.
When meeting specific needs, the demand for your services increases. And as we know from Economics 101, that's good for business!
3. Increased Referrals Leads to More Revenue
Another amazing effect from the education of your aides? An increase in client and professional referrals. This increase naturally leads to a jump in profits and allows you to seriously considering expanding your services.
Maybe you've been dreaming of offering specialized services or opening a new location, but funds were a roadblock. Providing advanced education causes a ripple effect that provides the push you need to take the next step toward growth.
Advanced Education Makes a Difference to Clients/Families
Dealing with issues that regularly arise for those with chronic diseases is not something to be taken lightly, and the right care can make a huge difference in the quality of life for your client.
Let's use dementia as an example. Simple tasks like remembering to get dressed, eat or take medications are neglected as the condition worsens. Add the issues of unsupervised wandering, agitation, confusion, and other troubling behaviors resulting from the disease, and the care situation quickly become difficult.
But with advanced education, aides learn specific actions they can preform to help clients remain calm and happy. For instance, the best plan for a dementia client is to maintain normalcy and routine. Care activities need to be preformed in the same sequence. Tools (soap and towels) must be returned to the same drawer and rack after each use. The aide needs to understand how to change care tactics quickly if the client is distressed and as the disease progresses.
As another example, a client with chronic obstructive pulmonary disease (COPD) requires specialized assistance to prevent unmanageable shortness of breath. Encouraging pacing of activities and nutrition specific to this condition can improve quality of life. Through proper advanced education, caregivers learn the importance of encouraging doctor-recommended activities and how to identify warning signs of respiratory infection.
Advanced Education with Aide University
At Kenyon HomeCare Consulting, we understand the value of well-educated aides to your organization, clients, and your bottom line. That's why our Aide University delivers real, actionable results. Give us a call at 206-721-5091 today to learn more.
This article, originally entitled, 3 WAYS ADVANCED EDUCATION LEADS TO NEW HOMECARE SERVICES , first appeared in Kenyon HomeCare Consulting blog.
------
One of Ankota's recent whitepapers, entitled "Selling Care Transition Services to Hospitals" is available for download and we think you'll find it useful. Please click the link or the picture below to download. If you're interested in scheduling an online demo of our home care or care transitions software solutions, just click this button: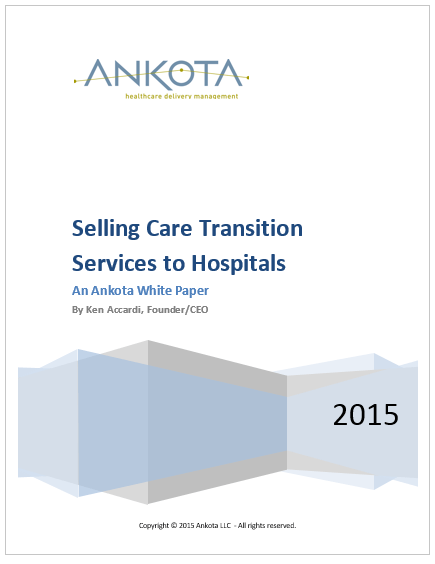 Ankota provides software to improve the delivery of care outside the hospital, focusing on efficiency and care coordination. Ankota's primary focus is on Care Transitions for Readmission avoidance and on management of Private Duty non-medical home care. To learn more, please visit www.ankota.com or contact us.