mHealthSpot recently conducted an interview with Ankota Co-Founder, Ken Accardi, about homecare tech and the future of mobile healthcare technology.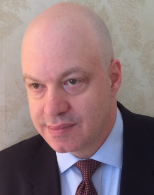 mHealth Spot is an online resource that covers mobile health news and analysis. You can go directly to the interview on their site here, or read below:
How would you pitch your company? What's your elevator pitch?
10% of the population is responsible for 75% of the health care spending in America. This is a well-known group of people who are elderly and have multiple chronic illnesses. Ankota's solutions enable care providers to focus on this population and to help them avoid hospitalizations. Our customers provide care in private homes and long term care facilities that improve patient quality of life and avoid hospitalizations.
What sets you apart from competitors?
Our competitors focus on long-established models of care delivery like elderly care or post-acute home healthcare. By contrast, Ankota enables our customers to evolve and support new business models including care transitions (avoiding readmission after a hospitalization) and chronic care management (a new reimbursable telephone-based care service for patients with chronic illnesses).
What's your business model?
Customers pay a monthly subscription fee for use of our systems.
Can you share some numbers? How many users do you have?
Ankota's software has been used to service over 500,000 patients across more than 1,000 care delivery organizations.
Where do you see the company going from here?
Everyone acknowledges the potential of chronic care management and care transitions to provide better care at lower cost to the broadest population (this is called the "Triple Aim"), but the reimbursement for these services isn't attractive enough for most care providers to get on board. Ankota is focused to make it very simple to provide this care and to empower the home care community to provide these services.
Where do you see the mHealth industry going?
In the long term, we expect that the mobile phone will become the primary health diagnostic tool, like the Star Trek Bioscan. But in the shorter term, the people who consume the most care are not smartphone power users. For this reason, we focus our mobile applications on caregivers.
How long are we from seeing modern mHealth technologies going mainstream?
mHealth will go mainstream when the majority of the 75 and older community are comfortable downloading apps on their iPhone or Android home. This is still a ways off.
-----
Ankota focuses on home care agencies who are looking to futureproof their businesses with capabilities like those listed above and agencies looking to position themselves to manage care transitions. Let us know if we can help.
As a start, you can download our white paper, Why Care Transitions Is The Next Big Thing for the Home Care Industry. Just click the link to download.
If you're interested in learning more about our home care management software solutions, or about our Care Transitions component as a way to increase revenue, just click the button below: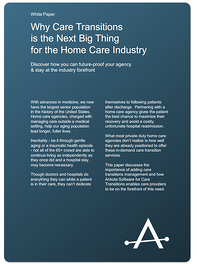 Ankota provides software to improve the delivery of care outside the hospital, focusing on efficiency and care coordination. Ankota's primary focus is on Care Transitions for Readmission avoidance and on management of Private Duty non-medical home care. To learn more, please visit www.ankota.com or contact us.