This post is shorter than our normal average of 500 words but shares an interesting and compelling message from the NAHC (National Association of Home Care and Hospice) Financial Managers Conference. We learned of this messaging from Tim Rowan's Home Care Technology Report.
The new messaging is as follows:
There are three healthcare delivery sectors:

Hospitals

Physicians, and

Health Care at Home

Home Care needs to be viewed as an equal sector and not just a support staff for that other two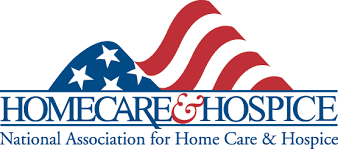 In Tim's July 1st newsletter (Volume 5 Number 22) Tim vows to adopt "Healthcare at Home" as the third equal sector of healthcare deliver as messaging that he'll be adopting for the editorial policy of his publications. Tim further reminds us the following:
Home care costs less

Treatment at home is the universal preference of people

In addition to improving satisfaction and lowering cost, treatment at home can have better health outcomes by helping people to avoid the hospital environment within which there are 200,000 accidental deaths and harm to over 400,000 patients per year.
Ankota supports this positioning. Avid readers of this blog know that our core belief is as follows:
The majority of healthcare spending is on patients with chronic illnesses (illnesses that can't be "fixed" but rather have to be "managed")

Hospitals are optimized for dealing with acute illnesses (conditions that can be fixed)

We believe that healthcare at home is the best way to improve health outcomes, lower cost and serve the greatest population
If we can help you with software for home care or care transitions, please contact Ankota.
Ankota's 3rd care transitions whitepaper, entitled "Selling Care Transition Services to Hospitals" is now available. Please download click the link or the picture blow for tips on how to construct optimal care transitions offerings and sell them to hospital partners in your geographies. If you're interested in scheduling an online demo of our home care or care transitions software solutions, just click this button: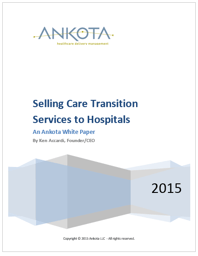 Ankota provides software to improve the delivery of care outside the hospital, focusing on efficiency and care coordination. Ankota's primary focus is on Care Transitions for Readmission avoidance and on management of Private Duty non-medical home care. To learn more, please visit www.ankota.com or contact us.