The Affordable Care Act increased financial accountability for preventable readmissions and heightened interest in identifying system-level interventions to reduce rehospitalization rates. In 2013, Kaiser Health News announced that 2,217 organizations faced penalties for excess readmissions. The transition to value-based reimbursement to health care organizations is well underway and by the end of 2014, the number of organizations facing penalties grew to 2,610.
As leadership seeks innovative ways to reduce rehospitalization rates, online education for healthcare aides is poised to assist in reaching their goals!
Empowering Those Spending the Most Time With Clients
Since they spend more time providing care to clients than other members of your staff, healthcare aides are well positioned to quickly identify risk factors and worsening disease symptoms that place clients in venerable health states which may require interventions and/or hospitalization.
When frontline caregivers receive advanced education managing specific diseases such as congested heart failure and diabetes, they become better able to identify the red flags associated with those diseases. Providing better training to your frontline caregivers allows them to quickly identify worsening symptoms, depression and unwanted side effects of medications to reduce readmissions, save money from readmission penalties and improve the organization's bottom line.
Online Education for Healthcare Aides: Improve Work Environments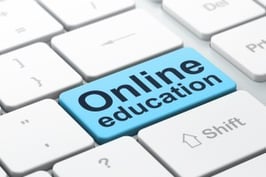 Changing demographics and a shortage of skilled workers are forcing many providers to find innovative approaches to employee training, recruitment and retention. According to a survey conducted by the National Institutes of Health, improving work environments for healthcare professionals is an effective strategy to reduce rehospitalization rates. By reducing turnover and vacancy rates, online education for healthcare aides yields significant financial benefits to employers by providing better work environments and fostering improved client care.
Lowering healthcare aide turnover rates:
Reduces the cost of advertising, interviewing, and hiring new staff

Reduces costs associated with hiring temporary workers

Improves staff satisfaction, resulting in recruitment of other workers by staff members

Fosters increased interdisciplinary planning and cooperation

Results in higher quality client care to reduce rehospitalization rates
Reduce Rehospitalization Rates: How Online Training Addresses the Needs of Adult Learners
A key characteristic that distinguishes adult learners from other students is that they are seeking to balance their work life with their personal obligations. Online learning helps meet their needs in the following ways:
Accessibility — Courses are accessible 24/7 to fit any schedule

Flexibility — Adult learners must adjust study time to their work schedules; unlike campus courses that are scheduled according to rigid schedules, students can access coursework wherever they have an Internet connection

Self-scheduled study time — Lessons can be paused when necessary, and reviewed at any time
Healthcare aides are adults learners with specific preferences and characteristics:
Exhibit motivations based on real workplace experiences

Orientated to learning centered on problem-solving

Possess a vast reservoir of knowledge based on job experience which must be acknowledged

Based on motivation, prefer self-directed learning
Online learning is a cost-effective way to address the unique needs of your healthcare aides and empower them to reduce rehospitalization rates! Kenyon Homecare Consulting offers just what you need to get started.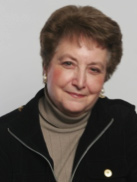 Need to Decrease Hospital Readmission Rates? Use Online Education for Healthcare Aides first appeared at Kenyon HomeCare Consulting.
Ginny Kenyon is the founder and CEO of Kenyon HomeCare Consulting, a home health consulting firm that gives agencies a market advantage, promotes creative product development, and offers viable ways to achieve and sustain organizational and fiscal success. You can also connect via these links: LinkedIn | Twitter | Facebook
Ankota offers a free white paper, Why Care Transitions Is The Next Big Thing for the Home Care Industry that can offer you more insight on this topic. Just click the link or the picture below to download.
If you're interested in scheduling an online demo of our home care or care transitions software solutions, just click this button: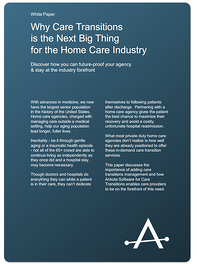 Ankota provides software to improve the delivery of care outside the hospital, focusing on efficiency and care coordination. Ankota's primary focus is on Care Transitions for Readmission avoidance and on management of Private Duty non-medical home care. To learn more, please visit www.ankota.com or contact us.