One of the industry experts I learn from every time we speak is Ginny Kenyon, principal at Kenyon Home Care Consulting. Ginny helps open home care agencies and has given Ankota great inputs on our software. We at Ankota strongly believe that keeping elderly people healthy and comfortable in their homes (and out of the hospital) is an important step in the evolution of healthcare. Ginny is one of the pioneers driving moves in home health delivery. Enjoy her post (below).
As home care technology continues to develop, becomes increasingly powerful and more practical, we may be seeing glimpses of what our industry may look like in 100 years. A recent, first-of-its-kind study by the University of California San Francisco is proof. The data demonstrates how cutting-edge home care technology and remote monitoring improves patient outcomes and bottom lines simultaneously.
While the study shows the workability of general remote health care and the need for full staff training for successful implementation, the registered nurses (RNs) were the key. The report highlights the need for RNs who have not only solid basic training and varying experiences but who also receive adequate additional telehealth training.
The Critical Role of RNs in Upgrading Home Care Technology
Remote health monitoring is taking the medical world by storm! And causing a surge in the demand for technology equipped home care organizations. Consequently those agencies employing RNs with telehealth training are able to admit patients who might otherwise require hospital or a nursing home care.
Therefore, these nurses are front and central interpreting remote monitoring data and then moving on-site to verify conclusions and to administer treatments. Oftentimes non-nurses can review data and look for "red flags" before passing this information to the RN. But despite the fact that to a degree all staff members need to adjust to remote monitoring, it's the RNs who bear the brunt of this transition.
However, RNs need time to adapt and to complete telehealth specific training. Much of this training is on-the-job and program-specific. Most home care technology manufacturers supply training on their products. Some education involves shadowing another RN already experienced in remote monitoring techniques. And there are also modules and online, distance education classes that address this need.
Remote Monitoring, One Piece of the Home Care Puzzle
Many RNs who are familiar with in-home, face to face patient assessments may be uncomfortable with remote monitoring at first. But RNs quickly adapt when given the right tools. However, the second major conclusion of the UC San Francisco study indicates that telehealth care will never fully replace human contact.
The study results show that preventing first-time hospitalizations and reducing readmission rates, were far better when using both remote monitoring and in-home care rather than using just one or the other being exclusively.
It is undeniable! Advanced home care monitoring, think telehealth, is a useful tool to reduce costs and compliments home visits. Furthermore, there are already moves to incorporate video-conferencing in the near future allowing for remote visual patient assessments. Yet, home visits will always be essential, and RNs with hands-on clinical experience will continue to be the best candidates for remote monitoring training.
Thus, it is no surprise that the UC San Francisco study found the success rates of remote monitoring programs were directly correlated to the provision of supplemental education for RNs.
Patient Reaction to New Home Care Technology
One surprising study finding was that patients were not generally apprehensive or resistant to participating in remote monitoring assessments. Although it had been expected that most patients, especially the elderly would be against the benefits of this technology.
The equipment—highly accurate, reliable, and easy to use—and training participating home care clients, remote monitoring was very well received. And there are other positive facts clients appreciate. Field installers are available to answer follow-up questions and are consistently accessible for troubleshooting and technical support.
In fact, it is providers who worry the most, fearing an unmanageable overload of patient phone calls and follow-up visits. Instead, the most common problem was that many remote monitoring patients were slow to communicate or were unable to adhere to self-management requirements. On the whole, training RNs and patients alike will prevent most bumps in the road and lead to success.
Conclusion
The recent UC San Francisco study only confirms what many of us already know! RN training is a major key to the success of any remote monitoring program. And in-home care will never be 100% replaced.
At Kenyon HomeCare Consulting, we offer homecare staff training, coding outsourcing, and consulting assistance. Let us help you maximize your reimbursements, improve your service delivery and meet your success goals.
To learn more, call us today at 206-721-5091 or complete our online contact form for 30 minutes of free consultation.
This article entitled, NEW STUDY SHOWS RNs VITAL TO HOME CARE TECHNOLOGY SUCCESS first appeared in Kenyon HomeCare Consulting blog.
------
One of Ankota's recent whitepapers, entitled "Seven Habits of Highly Effective Private Duty Home Care Agencies" available for download and we think you'll find it useful. Please click the link or the picture below to download. If you're interested in scheduling an online demo of our home care or care transitions software solutions, just click this button: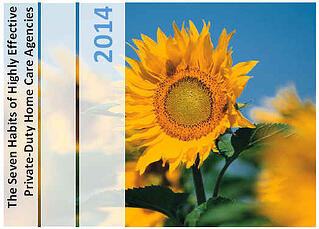 Ankota provides software to improve the delivery of care outside the hospital, focusing on efficiency and care coordination. Ankota's primary focus is on Care Transitions for Readmission avoidance and on management of Private Duty non-medical home care. To learn more, please visit www.ankota.com or contact us.