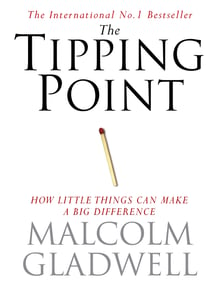 I'm sure many of us are familiar with Malcolm Gladwell's seminal marketing and sales book "The Tipping Point". For a quick refresher: "The tipping point is that magic moment when an idea, trend, or social behavior crosses a threshold, tips, and spreads like wildfire."
At Ankota, we believe that healthcare is at a tipping point with Care Transitions. More specifically, that Care Transitions are a vitally important piece of "the future of healthcare" puzzle, that it provides a business opportunity, and that Home Care agencies are uniquely positioned to both provide quality care and to increase their revenue.
If you want to learn more about how you can protect and grow your agency via Care Transitions, or are ready to implement an initiative, we've provided 5 articles below that can help guide you through the process
Before you get to the list though, here's further evidence that outlines the problem and the opportunity:

The American Heart Association recently shared the results of a study on Care Transitions that concludes the following:
"Even at the highest performing hospital, discharge summary quality is insufficient in terms of timeliness, transmission, and content. Improvements in all aspects of discharge summary quality are necessary to enable the discharge summary to serve as an effective transitional care tool."
And an article from the American College of Cardiology adds commentary on the study, keying in on this finding from the study:
"Recognizing that there are gaps in the transition of care, the ACC's Hospital to Home (H2H) quality improvement program was implemented to help hospitals reduce readmissions and improve transitions of care by sharing best practices and disseminating evidence-based strategies and toolkits…"
The findings illustrate the problem and point to an opportunity to create a solution, but where does home care fit in? To answer that question, we suggest the following 5 articles on the subject:
5 Articles Outlining the Opportunity In Care Transitions
1.) If you'd like a deeper dive into how much is at stake for the healthcare industry, give this article a read:
Kaiser Shares That 2,619 Hospitals Will Be Penalized $428 Million for Readmissions
2.) For a look at what kind of profit may be possible with a Care Transitions initiative, check out:
Care Transitions Program Delivers $3.30 for every $1 Spent
3.) To learn about the overall need and market scale, consider this:
AARP Forecasts Significant Shortage as Baby Boomers Age
4.) If you're not sure if your current caregivers can provide the level of care needed to expand into Care Transitions, here's an article for you:
Proof That Non-Medical Home Care Aides Can Significantly Reduce Hospitalizations
5.) Convinced of the opportunity your Home Care agency has with a Care Transitions as much as we are? "What's next" you ask? Take a look at this article:
2 Steps for Selling Your Home Care Agency's Care Transition Services to Hospitals
For even more info about the opportunity in Care Transitions, Ankota offers a free white paper, Why Care Transitions Is The Next Big Thing for the Home Care Industry that can offer you more insight on this topic. Just click the link or the picture below to download.
If you're interested in scheduling an online demo of our home care or care transitions software solutions, just click this button: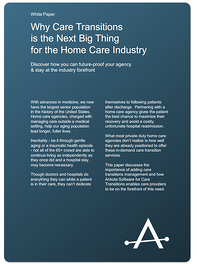 Ankota provides software to improve the delivery of care outside the hospital, focusing on efficiency and care coordination. Ankota's primary focus is on Care Transitions for Readmission avoidance and on management of Private Duty non-medical home care. To learn more, please visit www.ankota.com or contact us.