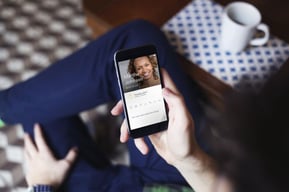 As Ankota meets with home care agencies, we encounter a range of attitudes about technology. In general, most agencies realize that they can't scale without software to manage schedules, care plans, timekeeping, billing and payroll. Most agencies are still opting for telephony as their primary tool for checking in and out, but some are using smart phones now, and a small percent are still holding back and entering results from paper records. While we're happy to provide excellent and affordable software for basic timekeeping, we generally attract agencies who are more forward looking. They want to manage care transitions, exchange health information with partners and improve in their management of chronic conditions.
Silicon Valley is Jumping In
Above, I described forward-looking agencies as those embracing things like electronic referrals and care transition software. Well, Silicon Valley has recently jumped into the mix with a technology-enabled home care agency, called Honor, as profiled in this article. Led by Seth Sternberg, who attended Yale and Stanford and recently sold his former company Meebo to Google, Honor plans for the following capabilities:
A Portal for families to choose caregivers based on detailed criteria like language spoken

A console for seniors to interact with in the home

A mobile app for families to stay apprised of their loved-one's care
Honor is recruiting caregivers now for their launch in San Francisco and is offering rates in the $15-$17/hour range.
This Should Be a Wake Up Call for Home Care Agencies that Don't Value Technology
You might be thinking that a service for the San Francisco elite doesn't pose a threat to your agency, but I'd beg to differ. Focusing just on the technology side and not on the rates that Honor will charge, let's go through it:
Once a cell-phone app is developed, it's not that expensive to add more user's to it, so perhaps a family-app will become the norm soon

Similarly, a home monitoring station has some cost. For example, if it's based on an android tablet of an Amazon kindle it is likely a $100 one-time investment plus monthly wireless fees

Lastly, you know that software like Ankota's and others let's you choose caregivers based on things like language spoken, proximity and availability, so you should be thinking about making that information available to clients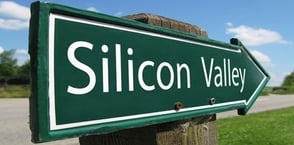 Even if you don't want to be an innovator with technology, you should at least get modern software available on the market today. There are other's out there, of course, but Ankota's software accepts referrals on your site, has a family portal, accepts electronic referrals and manages care transition processes. If we can help you catch up, let us know!
You might also be interested in our free white paper, the Seven Habits of Highly Effective Home Care Agencies.
If you're interested in learning more about software solutions for home care or for care transitions, we'd love to help! To schedule an online demo of our home care or care transitions software solutions, just click this button: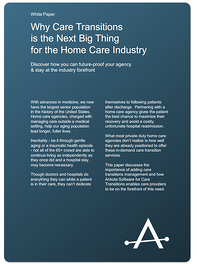 Ankota provides software to improve the delivery of care outside the hospital, focusing on efficiency and care coordination. Ankota's primary focus is on Care Transitions for Readmission avoidance and on management of Private Duty non-medical home care. To learn more, please visit www.ankota.com or contact us.