One of the industry experts I learn from every time we speak is Ginny Kenyon, principal at Kenyon Home Care Consulting. Ginny helps open home care agencies and has given Ankota great inputs on our software. We at Ankota strongly believe that keeping elderly people healthy and comfortable in their homes (and out of the hospital) is an important step in the evolution of healthcare. Ginny is one of the pioneers driving moves in home health delivery. Enjoy her post (below).
Self-Driving Cars?
One of the big costs and barriers for home health agencies is transportation. How many times have we all lost money on unfilled shifts or visits because of car problems? At the CAHSAH conference last month we heard that some agencies are solving the problem by using Uber. While it does cost the agency a bit more, it is more than made up by not having the entire shift lost because the aide or nurse had car problems.
With the projection that in the very near future most of us will have self-driven cars, this will be less of a problem especially if as projected. An article I read that posted on theguardian website provides some insight into this impending innovative approach to transportation. We will not own the cars. Instead, there will be a monthly bill to pay for the use of a car that will be summoned by cell phone to pick us up and drop us off. No more missed shifts or visits and for those of you with teenagers, no more speeding tickets or totaled cars, as the cars all have sensors that prevent crashes as well as maintain the speed limits and are not driven by the younger drivers.
This article entitled, "The Future of Transportation and Home Health", first appeared in Kenyon HomeCare Consulting blog.
------
One of Ankota's whitepapers, entitled "Seven Habits of Highly Effective Private Duty Home Care Agencies" available for download and we think you'll find it useful. Please click the link or the picture below to download. If you're interested in scheduling an online demo of our home care or care transitions software solutions, just click this button: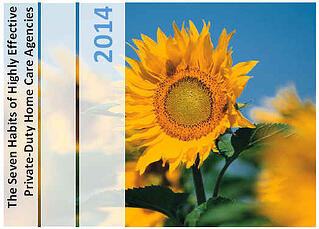 Ankota provides software to improve the delivery of care outside the hospital, focusing on efficiency and care coordination. Ankota's primary focus is on Care Transitions for Readmission avoidance and on management of Private Duty non-medical home care. To learn more, please visit www.ankota.com or contact us.