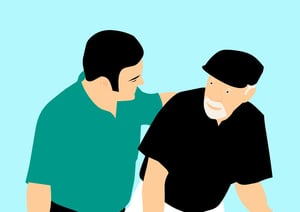 A recent article from Valerie VanBooven, RN BSN, Editor In Chief of HomeCareDaily.Com, called
"New Legislation Seeks to Make Home Care a More Appealing Career Option"
outlines a lot of useful data and offers strong points in in a pithy and easy-to-read way. Moreover, it is an article that I feel a lot of our audience will find valuable.
As I've mentioned in the past, finding great employees can be tough, as we all know, but keeping them engaged and challenged in their work over the long term can be just as difficult. Along with that is ensuring that there are ways to make Caregiving as viable a career as possible.
By 2050, it's expected that over 19 million people will be over the age of 85. Currently, that number is 6.3 million adults. With this increase in the aging population, it is tantamount to ensure that these growing numbers of elderly individuals have access to quality care at home, if and when the time comes.
In the same vein as the above block quote, it mentions the following topics up for discussion as ways to bolster Caregiving as a long term career:
Apprenticeships
Mentoring Programs
On-the-Job Training Opportunities
Take a look at the article (and the Vox article that it references) and let us know what you think about all of it. Please feel free to post your thoughts in the comments below.
Also, if you have suggestions for topics or areas of interest to be covered in our blog, please reach out and let us know!
If you haven't read our latest eBook on managing a Home Care business, please click the button below to get your copy today!
Ankota provides software to improve the delivery of care outside the hospital, focusing on efficiency and care coordination. Ankota's primary focus is on Care Transitions for Readmission avoidance and on management of Private Duty non-medical home care. To learn more, please visit www.ankota.com or contact us.