One of the industry experts I learn from every time we speak is Ginny Kenyon, principal at Kenyon Home Care Consulting. Ginny helps open home care agencies and has given Ankota great inputs on our software. We at Ankota strongly believe that keeping elderly people healthy and comfortable in their homes (and out of the hospital) is an important step in the evolution of healthcare. Ginny is one of the pioneers driving moves in home health delivery. Enjoy her post (below).
As our industry continues towards a pay-for-performance model, success and survival is dependant on quality patient care.
Importance of Accreditation
Regardless of the focus of your agency, whether home health or hospice, here are the top 5 reasons to begin accreditation.
1. Shifting Payment Models
This industry is shifting to a pay-for-performance models of payment. This means patient outcomes and patient satisfaction become crucial for reimbursement.
Accreditation helps you improve quality measures which increases payment for services.
2. Insurance Contracts
Many insurance providers refuse contracting to Medicare home health agencies without accreditation. Accreditation proves to payers your agency is serious about quality patient care.
Think of it this way: Payers for services expect to pay less for emergency and hospital care with provision of quality home care. It's in their best interest—and yours—to focus on care quality.
3. Stricter Measures
Accreditation requires a higher level of quality standards than being a medicare provider only.
Accreditation requires implementation and evaluation of quality measures in provision of clinical care. The process allows agencies to meet and exceed quality standards of care.
4. Improved Culture
Accreditation requires organizational assessment which determine strengths, weaknesses, and goals. Agencies engaged in this process promote team approach and atmosphere for employees.
Additionally, agency evaluation to maintain accreditation allows the collaborative environment within your agency is ongoing.
5. Agency Growth
When you focus on improving patient care, employee participation, clinical outcomes, and patient satisfaction; growth is a natural result.
Satisfied patients are more likely to recommend services to others and use services from you in the future. Satisfied Payers refer to agencies providing quality outcomes that saves money.
How Kenyon HomeCare Consulting Helps
At Kenyon HomeCare Consulting, we've been there, done that when it comes to accreditation. No matter your agency type, we guide you toward accreditation.
Our experts provide professional, effective organizational assessments that give you guidance to successful accreditation. Reach out today for your free consultation.
This article entitled, TOP 5 REASONS HOME HEALTH & HOSPICE AGENCIES NEED ACCREDIDATION, first appeared in Kenyon HomeCare Consulting blog.
------
One of Ankota's recent whitepapers, entitled "Seven Habits of Highly Effective Private Duty Home Care Agencies" available for download and we think you'll find it useful. Please click the link or the picture below to download. If you're interested in scheduling an online demo of our home care or care transitions software solutions, just click this button: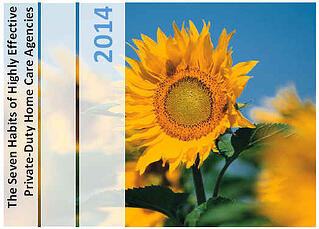 Ankota provides software to improve the delivery of care outside the hospital, focusing on efficiency and care coordination. Ankota's primary focus is on Care Transitions for Readmission avoidance and on management of Private Duty non-medical home care. To learn more, please visit www.ankota.com or contact us.