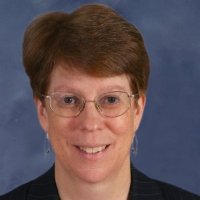 One of the bloggers and industry experts who I keep up with is Laurie Orlov, whose blog is the Aging in Place Technology Watch (www.ageinplacetech.com). After a successful career working for the large industry analyst firm Forrester Research she went on her own to focus specifically on technologies for aging in place. She also has an advanced degree in geriatric care management. Anytime I have a question about home monitoring, Personal Emergency Response Systems (PERS) or anything else related to technologies for seniors, I go to her site. I've also had the privilege of serving on panels with her and speaking at engagements with her for the Connected Health Symposium and Mass Tech Leadership Council.
Laurie Goes to Congress
Recently Laurie was asked to speak to congress about the cost savings potential of aging in place technologies as recounted in this article on mobile health news.com. A co-panelist was an expert on the use of telehealth within the Veterans Administraion (VA) hospitals. I encourage you to read the full article, but a few key takeaways are as follows: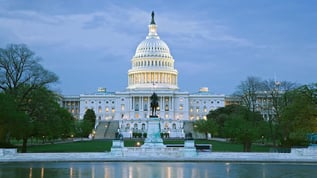 717,000 patients (12.6% of all veterans) were treated with telehealth services in 2014

There is technology being used in assisted living facilities with Microsoft cameras that monitor resident activity and signal alerts

The panel expressed that 1) there is no "silver bullet" answer, 2) that privacy in an important concern, and that 3) PERS has, for numerous reasons proven to be ineffective.

The presiding congress member - Senator Claire McCaskill (D-Missouri), gave that panelists the feedback that if funding is to be appropriated, that clear savings need to be demonstrated
My Two Cents
I personally believe that in the future, there will be one device, the mobile phone, that will become the key technology for connecting patients with their health. But I believe that this will come to bear when smart phone aficionados reach their 80s. I believe that's a ways off. My perspective is that the oldest people who are comfortable enough with their smart phone are now in their lower 60s.
In the meantime, I believe that the solution for people with the greatest need and highest risk is a combination of hands-on caregiving and the telephone. Having said that, there are some scary demographics regarding the projected number of people living into their 80s and the lack of caregivers, and as such, I do expect that some sort of monitoring technology, beyond the phone, will become popular in the coming years. I've seen some good attempts, like from Senscio Systems, but a clear winner is yet to emerge.
The Short-term answer is Care Management
At Ankota, we believe that our over-80 population needs people to provide them with care. But we constantly challenge our customers (home care, geriatric care, and others) to be expanding their services and experimenting with technologies. If you're interested, we have a free white paper, entitled, Why Care Transitions Is The Next Big Thing for the Home Care Industry
If you're interested in learning more about software solutions for home care or for care transitions, we'd love to help! To schedule an online demo of our home care or care transitions software solutions, just click this button: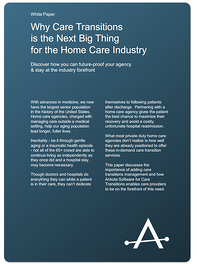 Ankota provides software to improve the delivery of care outside the hospital, focusing on efficiency and care coordination. Ankota's primary focus is on Care Transitions for Readmission avoidance and on management of Private Duty non-medical home care. To learn more, please visit www.ankota.com or contact us.