A geat way to make your home care agency stands out is by using video. Cypress Home Care owner Bob Roth has a video right on their home screen where he introduces their agency. Also, Bob and his team make a humorous holiday video each year where you get to see each of their staff members. Creating a video for your website so that visitors can meet you and your team is an effective way to have your agency stand out from the pack. Bob shared in a presentation that I attended that he is generally able to contract for a video for around $2,000.
Another approach is an "explainer video." We have two on the Ankota site. In our case, both are animated. The first one is what is referred to as a "hand drawn explainer video" (you can use that phrase to "Google" the concept). In our case, we got it from "90 Second Explainer Videos" and contracted for their 30-second video for $97.
Our other video explains the concept of care transitions. It's around 2 minutes and explains that home care agencies are able to provide these types of services as authorized by OIG (the office of the Inspector General), and then goes on to explain some of the associated complexity as well as how to simplify it. This was produced by Ankota's marketing lead Jeremy Hammel (who is also an accomplished filmmaker) and cost roughly $700. We put this video on our care transitions landing page as a quick way for people to understand care transitions before downloading a more detailed white paper.
Why Care Transitions Are The Next Big Thing In Home Care (<- Click to access the video)
Home Care Marketing Expert Steve "the Hurricane" sends a video out every Sunday night explaining a home care marketing concept. In Steve's case, his passionate and charismatic presentation style makes video a great way for him to connect.
What do you do to make your agency stand out?
Whether you use video or another approach, it's important for you to find a way to make your agency stand out from competitors. For more private duty marketing tips, subscribe to the Ankota blog on the upper right corner of this page.
Ankota's newest free care transitions whitepaper, entitled "Selling Care Transition Services to Hospitals" is now available for download. Please click the link or the picture blow for tips on how to construct optimal care transitions offerings and sell them to hospital partners in your geographies.
If you're interested in scheduling an online demo of our home care or care transitions software solutions, just click this button: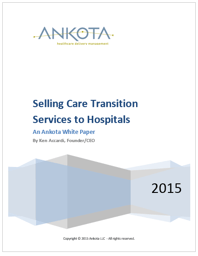 Ankota provides software to improve the delivery of care outside the hospital, focusing on efficiency and care coordination. Ankota's primary focus is on Care Transitions for Readmission avoidance and on management of Private Duty non-medical home care. To learn more, please visit www.ankota.com or contact us.